by https://www.briega.org translation thefreeonline
"We take care of each other and defend ourselves," declared the demonstration of more than 500 people who, late yesterday afternoon, toured the Old Town of Bilbao.
The Desokupa illegal eviction company was scheduled to enter a home in this neighborhood today, as they themselves reported through their communication channels. Different groups organized an anti-fascist breakfast in Unamuno Square that started at 8 am with the presence of almost a hundred neighbors, while preparing strategies to be attentive to how the day w0uld unfold.
In the early hours of Monday to Tuesday, more than twenty Bilbao Municipal Police officers, accompanied by firefighters, evicted building that had recently been squatted, the Arrakala Project, in the vicinity of Plaza Unamuno. At the same time, the 'ultras' company announced on its networks that today it would evict another home.
It is not known if it is the same and if the Municipal Police has anticipated the commotion caused by the landing in the Basque Country of the corporation with links to the extreme right, ex-military members and other violence.
Esteve, the Director of Desokupa has made a series of openly nazi videos.
"A world novelty: we are going to broadcast Live, in Bilbao, in the Old Town. We will arrive 10 people from Madrid and Bilbao. We will be in the Old Town between 7.30pm and 8pm. I know there are patrols out there from the kale looking for us. Well, let's see if we see each other, right? We are not going to meet, but fate will tell if we want to see each other or not. What is clear is that tomorrow at eight in the afternoon there will be a surprise and you are going to freak out. In the fucking center of Bilbo, "Desokupa owner Daniel Esteve explained defiantly in a video posted on Twitter yesterday.
Due it seems to the great demonstration Desikupa never showed up
From early in the morning, Ertzaintza vans wait at several of the entrances to the Old Town, which is pedestrianized. Specifically, on the San Antón bridge, at the back of the Arriaga Theater and on La Cruz street.
WATCH TWITTER
[Update: after the overwhelming response from the neighbors of the Old City (Casco Viejo) the person who had hired Desokupa called them to postpone the intervention, as the owner of the company explained again on his Twitter account. . "The owner is afraid that something might get screwed up. So the owner is in charge ", stated Esteve. For their part, the neighbors indicate that they will continue in the neighborhood].
On April 15, Desokupa carried out his first eviction in the Basque Country, in Abadiño. At 9.30 am, twelve men from the company appeared in this small Biscayan municipality, wearing masks with the Spanish flag, shaved heads and, among them, "the fascist Daniel Esteve, threatening and forcibly removing the people who lived there ", they denounced from the Gaztetxe of the town.
From Podemos Durangaldea they expressed their concern about "the violent attitudes that are taking place as a result of the extremist discourse of the extreme right, which is spreading to our region as we have been able to verify with the presence of Desokupa in Abadiño."
Illegal Abadiño eviction by Desokupa
For its part, EH Bildu questioned the Security Councilor, Josu Erkoreka, in the Basque Parliament about Daniel Esteve's statements, in which he affirmed that they had coordinated the eviction of Abadiño with the Ertzaintza. Erkoreka denied it.
"Nos cuidamos y nos defendemos entre nosotras", indicaron en la manifestación de más de 500 personas que a última hora de la tarde de ayer recorrió el Casco Viejo de Bilbao. Está previsto que hoy la empresa de desalojos ilegales Desokupa entre en una vivienda de este barrio, tal y como ellos mismos informaron a través de sus canales de comunicación. Diferentes colectivos han organizado un desayuno antifascista en la plaza Unamuno que ha arrancado a las 8h con la presencia de casi un centenar de vecinos, al tiempo que preparan estrategias para estar atentas a cómo se desarrollará la jornada.
En la madrugada del lunes al martes, más de una veintena de agentes de la Policía Municipal de Bilbao, acompañados de bomberos, desalojaron unos bajos que recientemente se habían okupado, el Proyecto Arrakala, en las inmediaciones de la plaza Unamuno. Paralelamente, la empresa de ultras anunció en sus redes que hoy desalojaría otra vivienda. No se sabe si se trata de la misma y si la Policía Municipal se ha adelantado ante el revuelo originado por el desembarco en el País Vasco de la corporación con vínculos con la extrema derecha, miembros exmilitares y demás violencias.
"Novedad mundial: vamos a emitir esa desokupación como si fuera el capítulo 3 de la serie. En directo, en Bilbao, en el Casco Viejo. Llegaremos 10 personas desde Madrid y Bilbao. Estaremos en el Casco Viejo entre las 19.30 y 20h. Sé que hay patrullas por ahí de la kale buscándonos. Bueno, pues a ver si nos vemos, ¿no? No vamos a quedar, pero el destino dirá si nos queremos ver o no. Lo que está claro es que mañana a las ocho de la tarde habrá una sorpresa y vais a flipar. En el puto centro de Bilbo", explicó ayer desafiante en un vídeo colgado en Twitter el dueño de Desokupa, Daniel Esteve.
Desde primera hora de la mañana, furgonetas de la Ertzaintza aguardan en varias de las entradas del Casco Viejo, que es peatonal. Concretamente, en el puente de San Antón, en la trasera del Teatro Arriaga y en la calle La Cruz.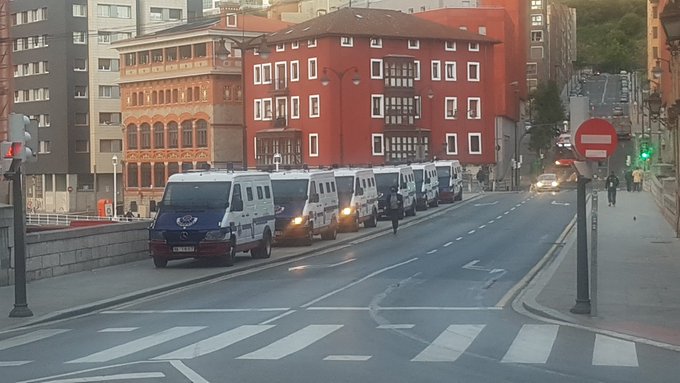 [Actualización: tras el fuerte despliegue policial en el Casco Viejo y la abrumadora respuesta vecinal, la persona que había contratado a Desokupa les ha llamado para posponer la intervención, según ha vuelto a explicar el dueño de la empresa en su cuenta de Twitter. "El propietario tiene miedo de que se pueda liar algo. Así que el propietario manda", ha afirmado Esteve. Por su parte, los vecinos señalan que seguirán en el barrio].
El pasado 15 de abril Desokupa realizó su primer desalojo en el País Vasco, en Abadiño. A las 9.30h, se personaron en este pequeño municipio vizcaíno doce hombres de la empresa, portando mascarillas con las bandera de España, la cabeza rapada y, entre ellos, "el fascista Daniel Esteve, amenazando y sacando por la fuerza las personas que vivían allí", denunciaron desde el Gaztetxe del pueblo.
Desde Podemos Durangaldea mostraron su preocupación ante "las actitudes violentas que se están produciendo a consecuencia del discurso extremista de la ultraderecha, que se extienden a nuestra comarca tal y como hemos podido comprobar con la presencia de Desokupa en Abadiño".
Por su parte, EH Bildu interpeló al consejero de Seguridad, Josu Erkoreka, en el Parlamento Vasco sobre las declaraciones de Daniel Esteve, en las que afirmaba que habían coordinado el desalojo de Abadiño con la Ertzaintza. Erkoreka lo negó.
---
Source:
Thefreeonline.wordpress.com