A few upcoming events:
On Monday 6th, Sheffield JustEat delivery drivers organised through the IWGB are due to strike against a pay cut. You can donate to their strike funds here. Security guards organised through the UVW at Great Ormond Street Hospital are also due to begin striking then, and that day will also see an "anti-racist Wales" event and fundraiser for the Free Siyanda campaign in Swansea, and an RMT demo against cuts to station staffing in Berwick.
On Tuesday 7th, security guards at Great Ormond Street Hospital will be holding a strike rally as part of their campaign for full NHS terms and conditions. You can donate to their strike fund here, and send a message to GOSH trustees in support of their demands here. That day will also see students at Poole College walking out in protest against the Policing Bill.
On Wednesday 8th, there'll be a protest at the House of Lords as they begin voting on the Bill, followed by another Kill the Bill event in Bristol on Friday 10th.
On Sunday 12th, someone's running a half marathon in the Vale of Clwyd as a fundraiser for the Free Siyanda campaign, and you can donate to that here.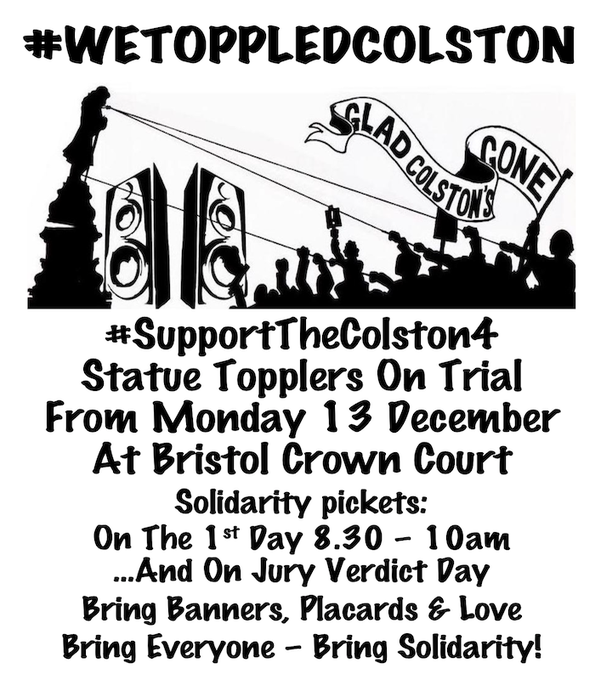 Monday 13th will see the start of the trial of the alleged statue-topplers in Bristol, and RMT demos against station staffing cuts in Newcastle and Durham. On Tuesday 14th, there's an online raffle and poetry night fundraiser for the strike against job cuts at Goldsmiths, and Wednesday 15th will see more RMT demos in Darlington and York.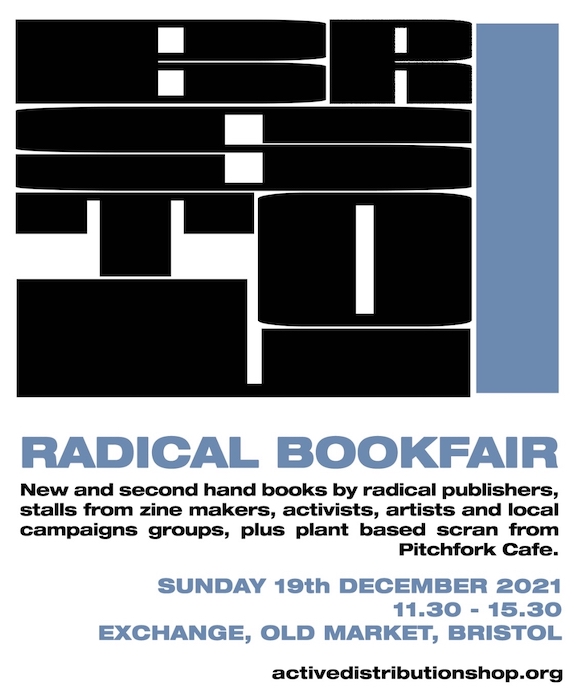 Saturday 18th will see Harrods workers organised through the UVW holding a pre-strike protest as they prepare to strike over pay, and there's another Bristol radical bookfair currently scheduled for Sunday 19th.
I've not seen anything specific announced yet, but there's usually prison solidarity noise demos on New Year's Eve, so that seems likely to happen, particularly in London and Bristol.
A few more notes on recent news:
In November, Amazon sacked a shop steward of the Polish syndicalist union Inicjatywa Pracownicza/Workers' Initiative, apparently for trying to stop any cover-up after a worker died on the job. You can watch a short video about the situation here. In Greece, an attempt to frame two anarchist militants for the murder of a drug dealer has just collapsed in court.
In recent workplace news, the Community union are claiming victory in a struggle against fire and rehire and pay cuts at the shoe company Clarks. The Anarchist Communist Group have reports on a number of recent workplace disputes, including a general roundup, the London tube strike, a successful strike over pay by London further education workers, and more struggles by further education workers.
Finally, there's an appeal to remember the Kill the Bill prisoners at Christmas: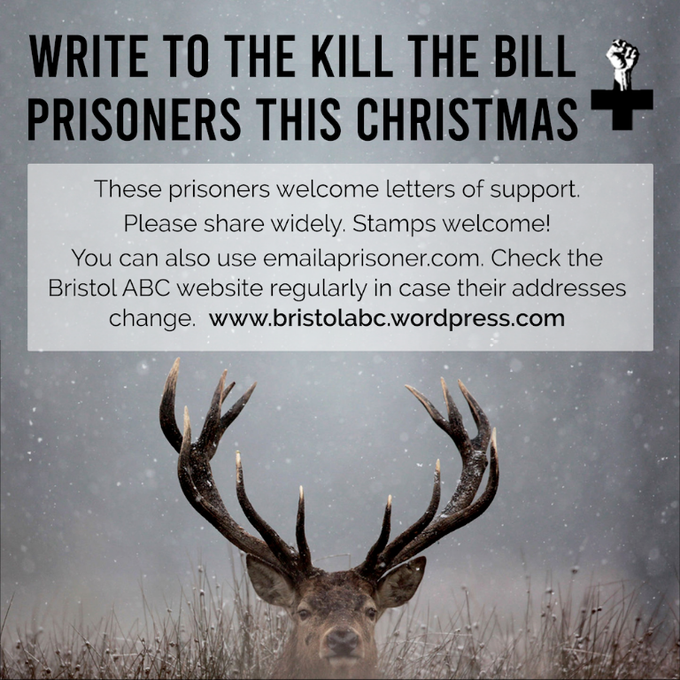 Please write to the Kill the Bill Prisoners this Christmas! 🔥❤️🏴You have no idea how much difference every single card makes in terms of making people feeling supported and able to keep going. These folks have all been sentenced (except two who are on remand) for their role in the Kill the Bill demonstration this March in Bristol.
We all love sharing pictures of burning vans on social media but once the riot porn fades, people are serving years behind bars for a night of defiance. They took action to defend themselves against the cops, resisting the state and its legislation set to expand police powers and incarceration across the board. Show them they are not alone!!!!!! Get a card in the post ❤️💌🖤💌
These prisoners welcome letters of support. Please share widely. You can also use emailaprisoner.com. Check the Bristol ABC website regularly in case their addresses change – www.bristolabc.wordpress.com
Ryan Dwyer A4276AT
Kane Adamson A1103ER
Kain Simmonds A9381EQ
Brandon Lloyd A0806EE
Shaun Davies A4075ER
HMP Portland, 104 the Grove, Easton, Portland, Dorset, DT5 1DL
Ryan Roberts A5155EM,
Benjamin Rankin A1261AY
HMP Bristol, 19 Cambridge Road, BS7 8PS
---
Source:
Nothingiseverlost.wordpress.com