A few upcoming events:
Uber drivers organised through the IWGB's United Private Hire Drivers branch will be striking on Wednesday 6th, and are holding a protest at Uber's headquarters that day. Bin collectors employed by Serco in Sandwell will also be striking that day.
The 6th will also see the start of Toby Shone's trial in Bristol. Toby Shone is facing terrorism charges related to the raids against the anarchist website 325.
You can currently write to him at:
Toby Shone A7645EP
HMP Wandsworth
Heathfield Road
Wandsworth
London SW18 3HS
It's possible that, if convicted, his address may change after sentencing.
On Thursday 7th, two people are in court in Manchester facing charges related to alleged direct action against the Israeli arms company Elbit (non-fb link for backup purposes).
On Friday 8th, cleaners organised through the grassroots union CAIWU will be protesting at Facebook over their workloads and the victimisation of a union activist. They have also now announced their intention to ballot for strike action.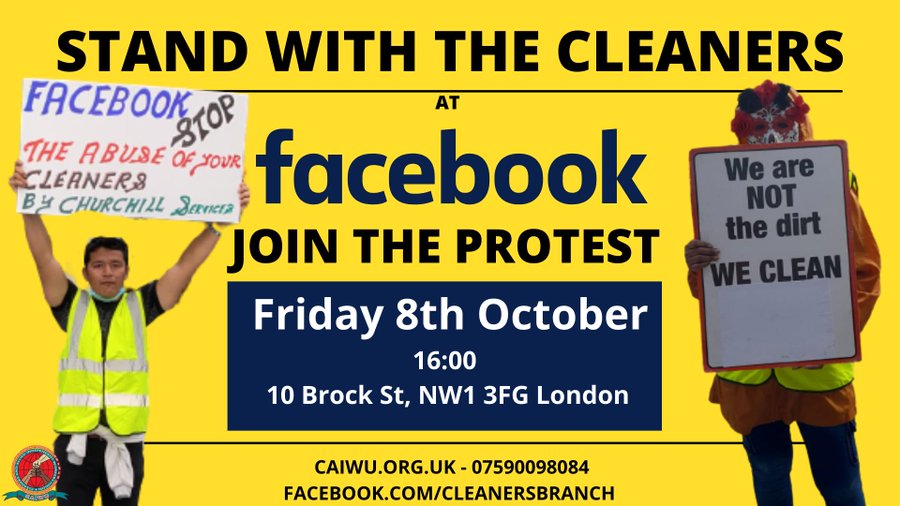 Sunday 10th will see Manchester tram workers striking over pay, park cleaners and other striking workers at Royal Parks in London holding a protest as part of their month-long strike action, and a radical bookfair hosted by Active Distribution in Bristol (non-fb link for backup purposes). You can also donate to the Royal Parks strike fundraiser here.
The International Workers' Association has called for a week of action against unpaid wages starting on October 11th. Several groups of bus drivers have voted to take action against Stagecoach, starting with drivers based in Preston and Chorley who'll be striking over pay from the 14th-16th October.
Manchester tram workers will be striking again on the 15th and 18th, and the 18th will also see strikes by Stagecoach bus drivers in the South West, East Midlands, and Derbyshire/Yorkshire. Stagecoach drivers in South Wales have now also voted for action but not set a date yet, and drivers in Manchester and Scotland are now going through the balloting process.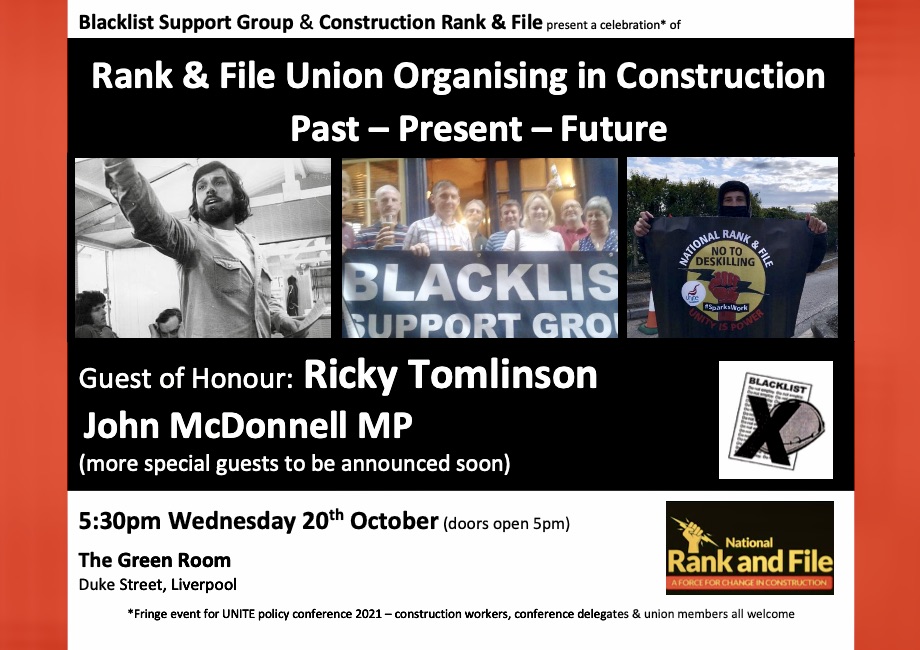 On Wednesday 20th, the Blacklist Support Group and National Construction Rank and File will be hosting a meeting in Liverpool on rank and file organising in construction. (non-fb link for backup purposes). That day will also see further strike action by care home workers organised through the UVW union at Sage Nursing Home, over pay, sick pay and annual leave.
There will also be further action by Lancashire Stagecoach drivers starting on the 22nd, and another Manchester tram strike on the 24th.
Ryan Roberts will be facing trial in Bristol on charges connected to the Kill the Bill protest earlier this year from October 25th-27th, and Bristol ABC are calling for a presence throughout his trial, but particularly on the first and last days.
Finally, going into November, the Manchester and Salford Anarchist Bookfair will be happening on the 6th, and that day will also see a global day of climate action coinciding with the COP 26 talks. The AngryWorkers collective will also be holding a gathering in Manchester the day after.
---
Source:
Nothingiseverlost.wordpress.com