by Kaos en La Red... translation thefreeonline shared with thanks
Honduras. Prosecutor confirms that the young nursing student Keyla Martínez was murdered at the police headquarters
The death by strangulation of Keyla in police stations has caused protests in the country and internationally
Honduras State Femicide
Four women murdered in recent days
By Giorgio Trucchi Posted on Feb 11, 2021
We have already said it and we do not tire of doing it: in Honduras the true pandemics are those of femicides and impunity.
On the night of February 6, Keyla Martínez, a young 26-year-old nursing student, was arrested in the city of La Esperanza for violating the curfew imposed by the Hernández government as a measure to combat the Covid pandemic. 19.
At approximately 11:30 at night she was arrested for being out after Covid curfew, taken to the Departmental Unit of the Police of this city and locked in a cell. A few hours later, Keyla's lifeless body was admitted to the departmental hospital emergency room.
According to the Police, the young woman would have committed suicide by hanging herself from the bars of the cell. A thesis already discarded by the autopsy that reflected that the death of the young woman was due to mechanical asphyxia, which shows that she was murdered.
After knowing the result of forensic medicine, the Prosecutor's Office issued instructions to the police authorities so that all the agents assigned to the police post be placed under the orders of the Public Ministry.
The murder of Keyla has shocked Honduran society and La Esperanza has become the scene of street protests, which have been brutally repressed with tear gas canisters and rubber bullets.
A tragedy that adds to the pain over the violent death of three other women in less than 72 hours. Keyli Hernández Castañeda, Alda Flores and Leonor Cálix were murdered in different areas of the country, adding to the already endless line of women victims of femicide.
Violence, Inequality, and Impunity: Situation of Human Rights ...portal.oas.org › multimedia › Honduras › honduras-en This report addresses the violation of rights of the people of Honduras: high rates of violence, citizen insecurity, and high levels of impunity. … military police, and armed forces themselves, through their illegitimate use of force and sometimes in …
For the Civic Council of Popular and Indigenous Organizations of Honduras (Copinh), the murder of Keyla Martínez is undoubtedly a state crime.
"From the moment that Keyla was captured and imprisoned, the safeguarding of her life was the responsibility of the Police, as well as the events that led to her death", highlights the indigenous organization.
According to Copinh, Keyla's femicide has sparked a wave of complaints from women who have been captured by the La Esperanza Police, their belongings stolen, and sexually abused, within the framework of the suspension of constitutional guarantees.
"A few days after the fifth anniversary of the murder of Berta Cáceres, a State femicide is repeated in La Esperanza (…) When we speak of anti-patriarchal struggle we mean that women like Keyla are must not be murdered by the State."
Both Copinh and a wide range of social and popular organizations demanded justice for the young student and the other victims of femicide, as well as punishment for those responsible.
We want each other alive!
"The femicide of Keyla Martínez adds to the history of abuses of power and excessive use of force, which with or without a curfew, public officials, especially police and military, have exercised against the entire population," says the Center Women's Rights (CDM).
For the feminist organization, these events only confirm the involvement of this institution in disappearances and murders of citizens under its tutelage.
"For those of us who defend life, Keyla and all the young women whose dreams are stolen by patriarchy and its institutions are the force that motivates us to continue seeking justice and building real transformations in this country, because we want each other alive!" concludes the CDM statement.
The Office of the United Nations High Commissioner for Human Rights (Oacnudh) in Honduras also raised its voice in the face of so much violence.
"All deaths in custody must be investigated as potentially unlawful and possible signs of torture, injuries and / or sexual violence should be analyzed.The Oacnudh urges the authorities to investigate the death of Keyla Martínez promptly and exhaustively, independently, impartially and transparently ".
During the past year, the CDM registered 321 violent deaths of women, 229 of which during the suspension of constitutional guarantees in the framework of the pandemic. There have been almost 6,300 registered femicides in less than two decades.
Source: Rel IUF
Honduras. Fiscalía confirma que la joven estudiante de enfermería Keyla Martínez fue asesinada en jefatura policial
La muerte por estrangulamiento de Keyla en dependencias policiales ha provocado grandes manifestaciones de protesta en el país e internacionalmente
Honduras Femicidio de Estado
Cuatro mujeres asesinadas en los últimos días
Por Giorgio Trucchi Publicado el 11 Feb, 2021
Ya lo hemos dicho y no nos cansamos de hacerlo: en Honduras las verdaderas pandemias son las de los femicidios y la impunidad.
La noche del 6 de febrero, Keyla Martínez, joven estudiante de la carrera de Enfermería, de 26 años, fue detenida en la ciudad de La Esperanza por violar el toque de queda impuesto por el gobierno Hernández como medida para combatir la pandemia de Covid-19.
Aproximadamente a las 11.30 de la noche fue apresada, llevada a la Unidad Departamental de la Policía de esta ciudad y encerrada en una celda. Unas horas más tarde, el cuerpo sin vida de Keyla era ingresado a emergencia del hospital departamental.
Según la Policía, la joven se habría suicidado ahorcándose de los barrotes de la celda. Una tesis ya descartada por la autopsia que reflejó que la muerte de la joven fue por asfixia mecánica, lo que demuestra que fue homicidio.
Tras conocer el resultado de medicina legal, la Fiscalía giró instrucciones a las autoridades policiales para que todos los agentes asignados a la posta policial sean puestos a las órdenes del Ministerio Público.
El asesinato de Keyla ha conmovido la sociedad hondureña y La Esperanza se ha convertido en escenario de protestas callejeras, que han sido brutalmente reprimidas a punta de bombas lacrimógenas y balas de goma.
Una tragedia que se suma al dolor por la muerte violenta de otras tres mujeres en menos de 72 horas. Keyli Hernández Castañeda, Alda Flores y Leonor Cálix fueron asesinadas en distintas zonas del país, engrosando la ya interminable fila de mujeres víctimas de femicidio.
Para el Consejo Cívico de Organizaciones Populares e Indígenas de Honduras (Copinh), el asesinato de Keyla Martínez se trata indudablemente de un crimen de Estado.
"Desde el momento en que Keyla fue capturada y encarcelada, la salvaguarda de su vida fue responsabilidad de la Policía, así como los hechos que llevaron a su muerte", destaca la organización indígena.
Según el Copinh, el femicidio de Keyla ha despertado una ola de denuncias de mujeres que han sido capturadas por la Policía de La Esperanza, robadas de sus pertenencias, abusadas sexualmente, en el marco de la suspensión de garantías constitucionales.
"A pocos días del quinto aniversario del asesinato de Berta Cáceres se repite un femicidio de Estado en La Esperanza (…) Cuando hablamos de lucha antipatriarcal nos referimos a que mujeres como Keyla no sean asesinadas por el Estado".
Tanto el Copinh como un amplio abanico de organizaciones sociales y populares exigieron justicia para la joven estudiante y las demás víctimas de femicidio, así como castigo para los responsables.
¡Nos queremos vivas!
"El femicidio de Keyla Martínez se suma al historial de abusos de poder y ejercicio desmedido de la fuerza, que con o sin toque de queda han ejercido funcionarios públicos, sobre todo policías y militares, en contra de toda la población", señala el Centro de Derechos de Mujeres (CDM).
Para la organización feminista, estos hechos no hacen más que confirmar el involucramiento de esta institución en desapariciones y asesinatos de ciudadanía bajo su tutela.
"Para quienes defendemos la vida, Keyla y todas las jóvenes a quienes el patriarcado y sus instituciones les roban los sueños, son la fuerza que nos motiva a seguir buscando justicia y construyendo transformaciones reales en este país, porque ¡Nos queremos vivas!", concluye el comunicado del CDM.
También la Oficina del Alto Comisionado de Naciones Unidas para los Derechos Humanos (Oacnudh) en Honduras levantó su voz ante tanta violencia.
"Toda muerte en custodia debe ser investigada como potencialmente ilícita y deberán analizarse posibles signos de tortura lesiones y/o violencia sexual.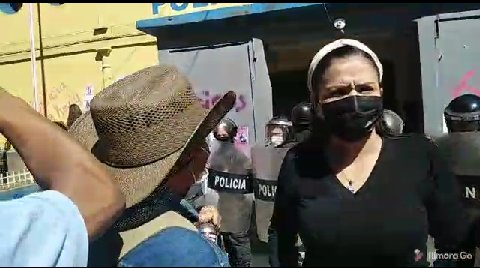 La Oacnudh insta a las autoridades a investigar la muerte de Keyla Martínez con prontitud y de manera exhaustiva, independiente, imparcial y transparente".
Durante el año pasado, el CDM registró 321 muertes violentas de mujeres, 229 de las cuales durante la suspensión de garantías constitucionales en el marco de la pandemia. Son casi 6.300 los femicidios registrados en menos de dos décadas.
Fuente: Rel UITA
---
Source:
Thefreeonline.wordpress.com