May 14, 2021 – From federacionanarquista.net/author/La_Haine/94 views translation thefreeonline
The reasons for the two-week strike and continuous mobilization :: Day 15 of demonstrations against the narcopolitics of Iván Duque
From the national strike to the popular uprising
Time of Power Collective
«Seguimos en paro nacional y tenemos propuestas», Organizaciones sociales"We are still on a national strike and we have proposals", Social organizations"
The call for the national strike gave way to the popular uprising, this is a mass strike, where broad social sectors take to the streets not only against the bad government, but against an economic model that suffocates them, against the old institutions and in favor of a society with social justice.
The social earthquake that this country has suffered has shaken the old structure of the political regime and has shown the deep cracks of inequality, of a country divided into classes.
From an oligarchy that wants to keep its privileges intact and the people in its various sectors who have come out with dignity to defend their rights and not allow the economic aggression that they want to impose, from a people that makes enormous sacrifices in the midst of the pandemic and some failed elites along with political parties and government institutions.
Cali is the epicenter of the social earthquake, the masks of the local leaders have fallen, the national government makes its experiment of the new urban war, transferring the methods used in the countryside to the city scene with helicopters and liquidation of the points of resistance with paramilitaries, official organizations dressed in civilian clothes and armed civilians from the wealthy neighborhoods of Cali.
The telluric social explosion has lifted the tectonic layers and uncovers class domination, which overlapped under the cloak of the so-called democratic equality of the political regime. The open street fighting of the people has revealed the existence of full-length social classes and has uncovered the true face of the characters of the State, who change clothes and roles.
The government does not propose social or economic solutions to the crisis, only a military response, under the darkness of the night paramilitary bands ravage the young people who resist in each place.
At night the dark hand of death looms and at night the President of the Republic furtively arrives in Cali, leaves his message of extermination and retires at dawn to his palace in Bogotá, where the lengthy dialogue with the old country continues.
But he does not make economic and political decisions in solving the crisis, nor does he recognize as social actors the young people who resist the barricades.
Mayor Ospina makes a gesture to remove his blue jacket as president and puts on the white one, sending the signal that he is with the rich in white who shoot the indigenous minga (indigenous people) during the day!
The governor, in the same vein, wants to see the indigenous people far away and decrees to close the borders of the department so that they do not enter.
The presence of civil gangs that have attacked the Indigenous movement, in their class and racist hatred, is the expression of the class war, an expression of the power struggle by each class for the hegemony of the city.
The entire crisis, social, economic, institutional, environmental, human rights, without solutions by the State, simmered for many years and boiled as in a pressure cooker without an escape valve, has exploded and its impact is generalized throughout the social body of the nation and in Cali especially.
The DANE figures."At the beginning of 2020, the situation in Cali was less bad than that of the rest of the country, with a poverty rate of 21.9%, compared to the national 35.7%; in extreme poverty the percentages were 4.7% and 9.6% respectively, and in the inequality index 0.46% and 0.52% ".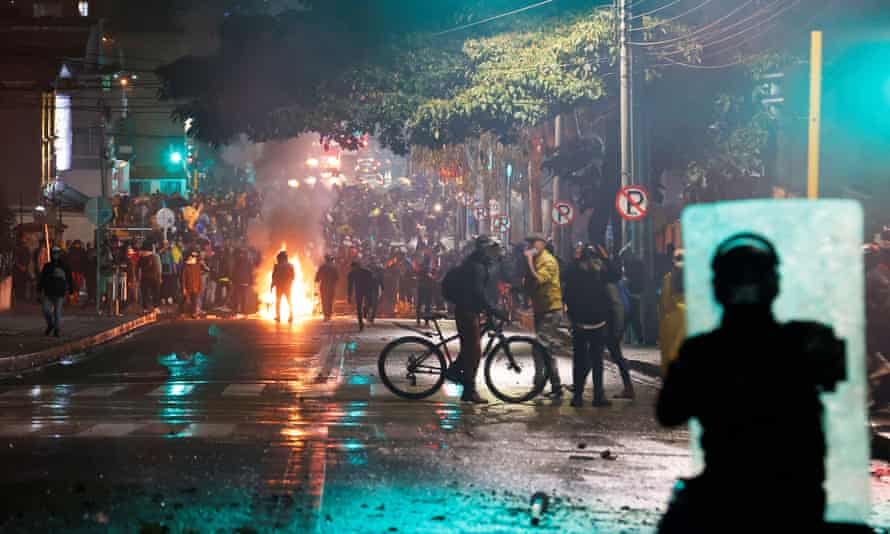 "With the pandemic, national poverty reached 42.5 (an increase of 7 points) and 3.5 million people became poor (an increase of 20%). The inequality measured by the Gini index also increased, which went from 0.52 to 0.54, returning to the levels of the beginning of the century ".
"What in the country was a storm, in Cali was a hurricane. The poverty rate increased 15 points (double the national rate), reaching 36.3, and the number of poor people increased 67%, that is, more than three times what happened in the country ".
Cali is the city where there was more repression and more riots. The Misak indigenous people demolished the statue of Sebastián de Belalcázar, a Spanish conqueror who founded the capital of Valle del Cauca, whom they consider to be one of the main responsible for the indigenous genocide.//Cali es la ciudad donde se presentaron más represión y más disturbios. Los indígenas Misak derribaron la estatua de Sebastián de Belalcázar, conquistador español que fundó la capital del Valle del Cauca, a quien consideran uno de los grandes responsables del genocidio indígena.
Another alarming indicator in the city is the loss of income of the poorest: while in the country as a whole it was 24%, in Cali it was 50% ".
Here is the cause of the social explosion, the government does not attack these deep causes of discontent, but it militarizes Cali by attacking the effects caused by this crisis such as citizen protest, unemployment, demonstrations and blockades. It gives military treatment to an economic cause. Today it generates discontent against unemployment, regulating the supply of gasoline and food of the population, seeking a confrontation within the unemployed cities.
The list of demands of the strike includes no less than 10 points…
Massive mobilizations in a new day of unemployment
Yesterday, the new day of protest called by the National Unemployment Committee in Colombia had a strong response from the citizens, who staged massive mobilizations in the main cities, while the narco-president Iván Duque insisted on the government's desire to "return to normality , with the urgency of listening and attending to social causes ". But so far it only serves the bourgeoisie.
Far from being frightened by past repressions, all the sectors mobilized in Colombia returned to the streets for the fifteenth consecutive day to join 514 protest activities – including demonstrations, artistic activities, blockades, cuts – in 221 municipalities, guarded by 140,000 police officers.
Yesterday's session is a direct consequence of the failure in the round of dialogue between the narco-government and the convening sectors, due to the intransigence of narco-president Duque
Bogotá, Medellín, Cali, Bucaramanga, Barranquilla, Pereira, Yopal, Cartagena, Neiva, Putumayo, among others, were the scene of important protests, in which the demand for the demilitarization of the streets and the end of the repression of citizens was at the top of the demands. The Ombudsman's Office recognized 41 civilian deaths, while the NGOs speak of around 60.
Funeral of slain guerrilla fighter, Edwin Dagua, an indigenous leader on the Huellas reserve, one of many victims of Colombia's long civil war. One human rights activist or social leader was murdered every two days in Colombia last year, [Source: trtworld.com]
The list of demands of the National Unemployment Committee also includes a basic income of a minimum wage for those affected by the pandemic, the withdrawal of the Health Law project, the defense of national production (agricultural, industrial, artisanal, peasant), the brake on forced eradication of crops for illicit use and subsidies for SMEs.
The social networks, moreover, were a cataract of images and videos of the mobilizations in every corner of the country and of many "inverted" flags, with the red up, in protest.
The newly formed FARC-EP, Segunda Marquetalia is Gaining Momentum
In Cali, which concentrated much of the attention due to the strong repression of days past, a column that left Potada al mar arrived at the Hospital Universitario del Valle, and another group said farewell to the great "minga" indigenous caravan/march, which today left the city, by Puerto Endurance.
The head of the Truth Commission, Francisco de Roux; representatives of Human Rights from the UN, the Attorney General's Office, the Ombudsman's Office, Mapp-OEA and the UN Verification Mission accompanying and facilitating the departure of the "minga" from the capital of Valle del Cauca.
In Bogotá, points of protests and blockades multiplied, reaching almost a hundred. Obviously the TransMilenio transport system did not work, and taxi drivers joined the protests, while the main concentration was in the central Plaza Bolívar.
"Present, present, be the president", was one of the most sung slogans. " The strike is to demand that the national government negotiate the emergency document that we sent in June 2020 and guarantees for social protest," said the president of the Central Unitaria de Trabajadores (CUT), Francisco Maltés.
In Pereira last week a group of men not yet identified – but supported by the police – fired eight bullets at Lucas Villa, the young student who finally died yesterday. Hundreds of people demonstrated early in the Olaya Herrera Park, next to the government of the department. Banners with the legend "Lucas lives" abounded and the "Concert for Life and Resistance" was held.
Here the only one who has seeded violence is the Government
The same happened in Bucaramanga, with its epicenter in the Plaza Luis Carlos Galán, a few blocks from the government of Santander, while in Cartagena the route to the airport was blocked and there was a mobilization towards the Plaza de la Paz.
An estimated 15,000 people protested in Neiva, where the mayor's office prohibited minors from marching and the use of hoods – a prohibition that was not obeyed by the population – and there were significant demonstrations in Pasto, in the Plaza de Nariño, in Riohacha, in Ocaña and in Villavicencio.
The protests began on Tuesday, April 27 against a tax reform bill by the Executive, an initiative that the government later withdrew from Congress, but the force of the mobilizations and the repression of the security forces and, above all, the Mobile Anti-Riot Squad ( Esmad), led to the hardening of the mobilizations and the expansion of the list of demands.
Source: Lahaine.org
************************
original en castellano
May 14, 2021 – De parte de La Haine 94 puntos de vista
Las razones de dos semanas de huelga y movilización continua :: Día 15 de manifestaciones en contra de las narcopolíticas de Iván Duque
Del paro nacional al levantamiento popular
Colectivo Tiempo de Poder
La convocatoria al paro nacional, dio paso al levantamiento popular y este a una huelga de masas, donde amplios sectores sociales salen a la calle no sólo contra el mal gobierno, sino contra un modelo económico que lo ahoga, contra las viejas instituciones y a favor de una sociedad con justicia social.
El terremoto social que ha sufrido este país, ha estremecido a la vieja estructura del régimen político y ha mostrado las grietas profundas de la desigualdad, de un país dividido en clases. De una oligarquía que quiere mantener intactos sus privilegios y el pueblo en sus diversos sectores que ha salido con dignidad a defender sus derechos y no permitir la agresión económica que se quiere imponer, de un pueblo que hace enormes sacrificios en medio de la pandemia y unas elites fracasadas junto a los partidos políticos y a la institucionalidad gubernamental.
Cali es el epicentro del terremoto social, las máscaras de los mandatarios locales se han caído, el gobierno nacional hace su experimento de la nueva guerra urbana, trasladando los métodos utilizados en el campo al escenario de la ciudad con helicópteros y liquidación de los puntos de resistencia con paramilitares, organismos oficiales vestidos de civil y de civiles armados de los barrios ricos de Cali.
La explosión social telúrica ha levantado las capas tectónicas y descubre la dominación de clase, que se solapaba bajo el manto de la llamada igualdad democrática del régimen político. La abierta lucha callejera del pueblo, ha revelado la existencia de las clases sociales de cuerpo entero y ha descubierto el verdadero rostro de los personajes del Estado, que cambian de ropajes y de roles.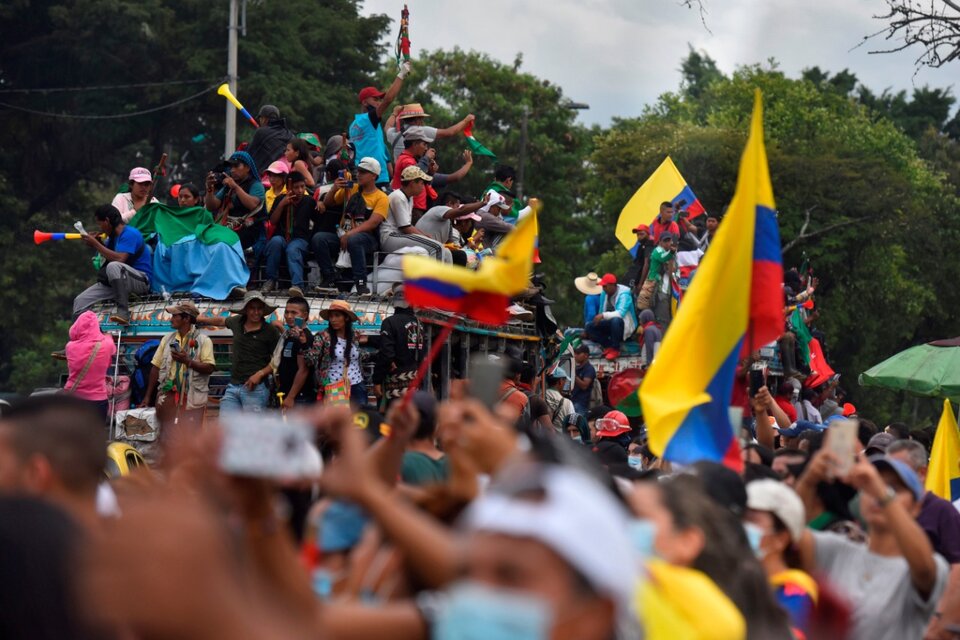 El gobierno no propone soluciones sociales ni económicas a la crisis, solo respuesta militar, bajo la oscuridad de la noche bandas paramilitares asolan a los jóvenes que resisten en cada lugar. De noche la mano tenebrosa de la muerte se cierne y de noche llega el presidente de la República de manera furtiva a Cali deja su mensaje de exterminio y se retira con el alba hacia su palacio en Bogotá, donde prosigue el dilatado diálogo con el viejo país, pero no toma decisiones económicas y políticas en la solución de la crisis, ni reconoce como actores sociales a los jóvenes que resisten en las barricadas.
El alcalde Ospina, hace un gesto de quitarse su chaqueta azul de mandatario y se pone la blanca, ¡mandando la señal que está con los ricos de blanco que disparan de día a la minga indígena! La gobernadora en la misma tónica, quiere ver lejos a los indígenas y decreta cerrar las fronteras del departamento para que no ingresen.
La presencia de bandas civiles que han atentado contra el movimiento Indígena, en su odio de clase y racista, es la expresión de la larvada guerra de clases, expresión de la lucha de poder por cada clase por la hegemonía de la ciudad. Toda la crisis, social, económica, institucional, ambiental, de derechos humanos, sin soluciones por el Estado, cocinadas a fuego lento durante muchos años y hervidas como en una olla a presión sin pistón, ha explotado y se generaliza su impacto por todo el cuerpo social de la nación y en Cali en especial. Para muestra las cifras del DANE.
"A comienzos de 2020 la situación de Cali era menos mala que la del resto del país, con una tasa de pobreza del 21,9%, frente al 35,7% nacional; en pobreza extrema los porcentajes eran 4,7% y 9,6% respectivamente, y en el índice de desigualdad 0,46% y 0,52%".
"Con la pandemia, la pobreza nacional llegó a 42,5 (un aumento de 7 puntos) y 3,5 millones de personas se volvieron pobres (un aumento del 20%). También se incrementó la desigualdad medida por el índice de Gini, el cual pasó de 0,52 a 0,54, volviendo a los niveles de principios de siglo".
"Lo que en el país fue tormenta, en Cali fue huracán. La tasa de pobreza aumentó 15 puntos (el doble de la nacional) llegando a 36,3, y el número de pobres aumentó 67%, es decir más del triple de lo que pasó en el país".
Otro indicador alarmante en la ciudad es la pérdida de ingresos de los más pobres: mientras que en el conjunto del país fue del 24%, en Cali fue del 50%".
Aquí está la causa de la explosión social, el gobierno no ataca estas profundas causas del descontento, sino que militariza a Cali atacando los efectos causados por esta crisis como es la protesta ciudadana, el paro, las manifestaciones y los bloqueos. Le da tratamiento militar a una causa económica. Hoy quiere generar descontento contra el paro, regulando el abastecimiento de gasolina y alimentos sobre la población, buscando un enfrentamiento dentro de las mismas ciudades en paro.
Aunque el pliego de demandas del Paro incluye no menos de 10 puntos, la ola de represión y ataques a las marchas por parte de las fuerzas de seguridad –que además dejaron al menos 47 muertos- corrió cualquier otro eje y queda concentrado en el reclamo para que se respete el derecho a la protesta, esto obliga a retomar el pliego de exigencias y ponerlo en el centro de la lucha, sumándose el castigo a los criminales.
—-
Masivas movilizaciones en una nueva jornada de paro
Página 12 / La Haine
La nueva jornada de protesta convocada por el Comité Nacional del Paro en Colombia tuvo ayer una contundente respuesta de parte de la ciudadanía, que protagonizó masivas movilizaciones en las principales ciudades, mientras el narcopresidente Iván Duque insistió en el deseo gubernamental de "retornar a la normalidad, con la urgencia de escuchar y atender las causas sociales". Pero hasta ahora solo atiende a la burguesía.
Lejos de atemorizarse por represiones pasadas, todos los sectores movilizados en Colombia volvieron a la calle por decimoquinto día consecutivo para sumarse a 514 actividades de protesta –entre manifestaciones, actividades artísticas, bloqueos, cortes- en 221 municipios, custodiadas por 140.000 policías.
La jornada de ayer es consecuencia directa del fracaso en la ronda de diálogo del narcogobierno con los sectores convocantes, por la intransigencia del narcopresidente Duque
Bogotá, Medellín, Cali, Bucaramanga, Barranquilla, Pereira, Yopal, Cartagena, Neiva, Putumayo, entre otras, fueron escenario de importantes protestas, en las que el reclamo por la desmilitarización de las calles y el fin de la represión a la ciudadanía estuvo en lo alto de las demandas. La Defensoría del Pueblo reconoció 41 muertos civiles, mientras que las ONGs hablan de alrededor de 60.
En verdad, el pliego de demandas del Comité Nacional del Paro incluye, además, una renta básica de un salario mínimo para los afectados por la pandemia, el retiro del proyecto de Ley de Salud, la defensa de la producción nacional (agropecuaria, industrial, artesanal, campesina), el freno a las erradicaciones forzadas de cultivos de uso ilícito y subsidios a las Pymes.
Las redes sociales, además, fueron una catarata de imágenes y videos de las movilizaciones en cada rincón del país y de muchas banderas "invertidas", con el rojo hacia arriba, en señal de protesta.
En Cali, que concentraba buena parte de la atención por la fuerte represión de días pasados, una columna que salió desde Potada al mar llegó al Hospital Universitario del Valle, y otro grupo despidió a la marcha indígena, que hoy dejó la ciudad, en Puerto Resistencia.
Estuvieron ahí el titular de la Comisión de la Verdad, Francisco de Roux; representantes de Derechos Humanos de la ONU, la Procuraduría, la Defensoría, Mapp-OEA y la Misión de Verificación de la ONU acompañando y facilitando la salida de la "minga" de la capital vallecaucana.
En Bogotá se multiplicaron puntos de protestas y bloqueos hasta llegar casi al centenar. Obviamente no funcionó el sistema de transporte TransMilenio, y los taxistas se sumaron a las protestas, en tanto la concentración principal se daba en la céntrica Plaza Bolívar.
"Presente, presente, fuera el presidente", era una de las consignas más cantadas. "El paro es para exigirle al Gobierno nacional la negociación del pliego de emergencia que le enviamos en junio del año 2020 y garantías para la protesta social", dijo el presidente de la Central Unitaria de Trabajadores (CUT), Francisco Maltés.
En Pereira la semana pasada un grupo de hombres aún no identificados -pero apoyados por la policía-, disparó ocho balazos a Lucas Villa, el joven estudiante que finalmente falleció ayer. Cientos de personas se manifestaron desde temprano en el Parque Olaya Herrera, al lado de la gobernación del departamento. Abundaron banderas con la leyenda "Lucas vive" y se realizó el "Concierto por la Vida y la Resistencia".
Otro tanto ocurría en Bucaramanga, con epicentro en la plaza Luis Carlos Galán, a unas cuadras de la gobernación de Santander, mientras en Cartagena se bloqueó la ruta que lleva al aeropuerto y hubo una movilización hacia la Plaza de la Paz.
Se estima que unas 15.000 personas protestaron en Neiva, donde la alcaldía prohibió que marchen menores y el uso de capuchas -prohibición que no fue atendida por la población-, y hubo manifestaciones de relevancia en Pasto, en la Plaza de Nariño, en Riohacha, en Ocaña y en Villavicencio.
Las protestas comenzaron el martes 27 de abril contra un proyecto del Ejecutivo de reforma tributaria, iniciativa que el gobierno después retiró del Congreso, pero la fuerza de las movilizaciones y la represión de las fuerzas de seguridad y, sobre todo, del Escuadrón Móvil Antidisturbios (Esmad), derivó en el endurecimiento de las movilizaciones y la ampliación del pliego de demandas.
---
Fuente:Lahaine.org
---
Source:
Thefreeonline.wordpress.com