#LlibertatWilliam Translated from Catalan
William has been in prison a month now for participating in the protests against the @LlibertatHasel Let us keep it in mind in all mobilizations for our rights and freedoms #LlibertatWilliam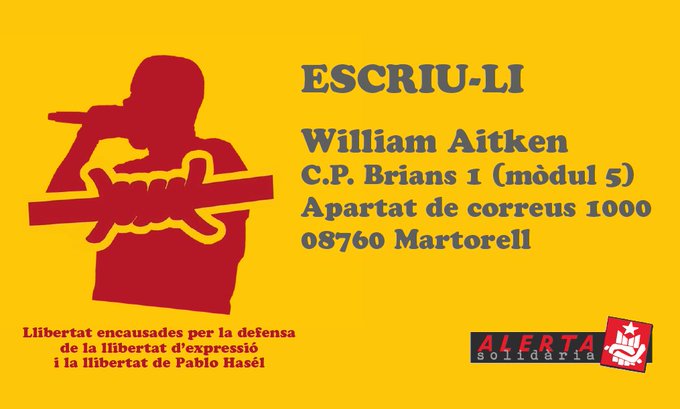 You can write to William here..
William Aitken is still being detained because he is deemed a 'flight risk' due to Brexit
On 2/17 they arrested William Scotsman, 30 years old, resident of St Antoni (BCN) for 4 years, lives with a partner, has a job and has a brother here. Imprisoned since the 18th for being a foreigner William wants to get out of anonymity and prison Let us write to him and release him!
SNP MP urges Dominic Raab to help free Scot in Spanish jail
Exclusive
THE SNP's shadow attorney general Angela Crawley has written to the Foreign Secretary urging him to intervene to secure the freedom of a Scot who has been held in a Catalan prison for a month without trial because Brexit rendered him a "flight risk".
Crawley wrote to Dominic Raab after being approached by the family of William Aitken, a former constituent of hers in Lanark and Hamilton East, who has been living in Barcelona with his partner, Fernanda Soler, and working there for more than four years.
The 30-year-old was arrested on February 17, the second night of protests in the city in support of jailed rapper Pablo Hasel. Police arrested six other people at the same time, but they were all released the following day.
However, a judge ruled that Aitken was a UK citizen and, since leaving the EU "the rules no longer govern nor European conventions … among them the European arrest warrant", therefore there was a "risk of escape".
He said Aitken did not appear to "have any work or family roots in our country" and sent him into pre-trial detention.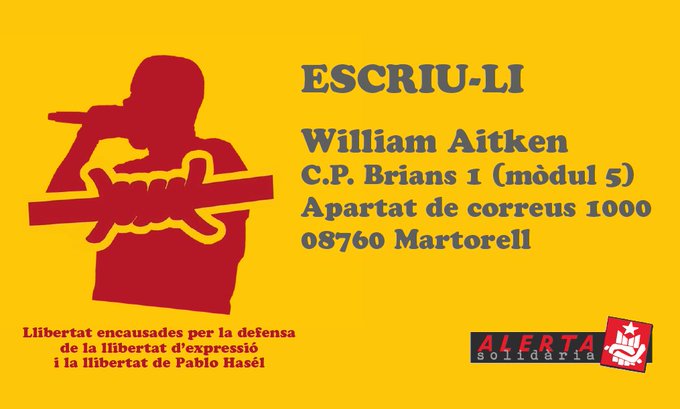 You can write to William here..
In her letter to Raab, Crawley said: "Mr Aitken had been accused of public order offences and was alleged to have taken part in a protest in support of rapper Pablo Hasel, who was jailed because of his lyrics criticising the Spanish monarchy.
"Although many of those arrested in the crackdown on these protests have since been released, William – who denies any involvement in the protest – has been held in 'pre-trial detention' since his arrest.
"According to his lawyer, he is being detained because the judge considered him a 'flight-risk' due to Brexit and the UK no longer being part of the European extradition treaties.
"By holding William without trial, the Spanish judicial system is failing to recognise that William has built an entire life in Catalonia over four years, holding down a stable job and sharing an apartment with his Catalan partner."
She added: "It also sets a dangerous precedent for UK nationals travelling to EU countries who may now face lengthy stays in prison without trial as a result of our failure to negotiate an effective extradition treaty."
Crawley urged the Foreign Secretary to liaise with his colleagues in Spain and request Aitken's release. She also offered to meet him virtually to discuss her wider concerns surrounding the lack of protection for British citizens travelling in Europe.
Aitken is due to appear in court on Wednesday for a hearing to try to secure his freedom, and his lawyer has presented 18 pages of evidence to show he is settled in Barcelona.
He said the Scot was "perfectly rooted socially, [with] family and work in Spain, specifically in the city of Barcelona, which drastically reduces any risk of escape", and has submitted banking and residence documentation to back this up.
In the past month Soler has been able to see her partner three times and is arranging for friends and supporters to gather at the court when he appears.
She told Directa.cat: "He is taking Spanish classes and taking the opportunity to play sports and keep busy, because he is nervous and anxious, despite feeling strong emotionally."
A spokesperson for the FCDO said: "We are providing assistance to a British man who was arrested in Barcelona, and are in contact with local authorities."
---
Source:
Thefreeonline.wordpress.com