Another quick round-up of upcoming events and ongoing struggles:
Weetabix workers in Northamptonshire are set to begin a round of strikes from Tuesday 21st September onwards, in opposition to a "fire and rehire" attempt to change their contracts and shift patterns. Engineers organised through Unite are set to begin continuous action short of strike on Friday 24th at Abellio Scotrail, a company which is also seeing a separate conductors' dispute organised through the RMT. Friday 24th will also see the return of the Youth Strike for Climate movement, there's a protest in support of cleaners' struggles happening in London on the 25th, and Saturday 25th and Sunday 26th will see Greater Manchester tram drivers striking over pay. The 25th may also see local Disabled People Against Cuts events over the £20 Universal Credit cut, but I'm not sure if any have been confirmed yet.
Conductors on Scotrail and East Midlands Railway are continuing their series of regular Sunday strikes over a range of issues.
On Monday 27th, workers at the GKN factory in Birmingham are launching an all-out indefinite strike against the threatened closure of their factory, and outsourced cleaners at the University of the Arts London will be starting a strike demanding to be brought in-house and given equal terms and conditions. More information can be found on their linktree, and they have a strike fundraiser here.
Tuesday 28th sees a protest outside Parliament commemorating a year of the dehumanising refugee camp in Napier Barracks and demanding its closure, while Disabled People Against Cuts are planning a very loud protest in London that day over the Universal Credit cut and similar issues in the benefits system. Also on the 28th, the App Drivers and Couriers Union have just announced a strike by Uber drivers, with demos apparently planned in London, Glasgow, Birmingham and Nottingham.
The joint UVW/PCS dispute by Royal Parks cleaners and playground attendants continues, with the outsourced workers set to walk out on October 1st and stay out throughout the whole month. On Sunday 3rd, there's the traditional demo against the tory party conference in Manchester. Further ahead, Active Distribution will be hosting a radical bookfair in Bristol on October 10th, and the Manchester and Salford Anarchist Bookfair will be happening on November 6th.
Other miscellaneous notes:
The Bristol bakery wildcat has now ended in a victory. Also in Bristol, defendants are still being sentenced from the Kill the Bill protest that kicked off in the spring, with Dylan Dunne being given 4 months for stealing a copper's hat. Dylan's address is:
Dylan Dunne A4108ER
HMP Horfield
19 Cambridge Road
Bristol
BS7 8PS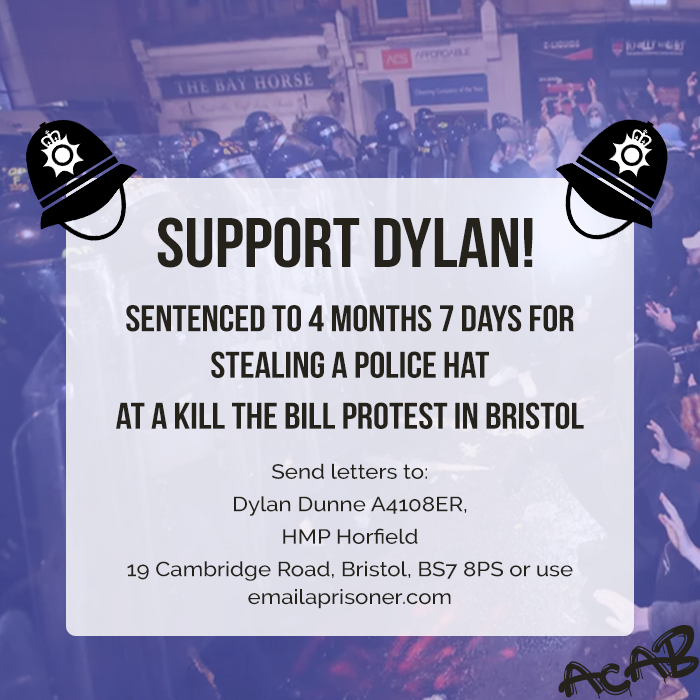 The IWGB have launched a dispute at Ocado, with drivers voting for strike action over poverty pay and the threat of job losses. They're currently asking for people to donate to their strike fund and to send letters to Ocado using this tool. Over at the UVW, cleaners at Great Ormond Hospital have voted to strike over issues around annual leave, maternity/paternity leave rights, and redundancy issues. You can find more about the campaign here, and they're currently asking people to donate to their strike fund, write a letter to the hospital trustees using this tool, and fill out a form here if they want to get more involved in supporting the dispute.
The Bexley Serco bin strike has won an impressive victory including a pay rise and extra holidays, and voice.wales has a report on the possibility of a number of public sector pay strikes breaking out in Wales.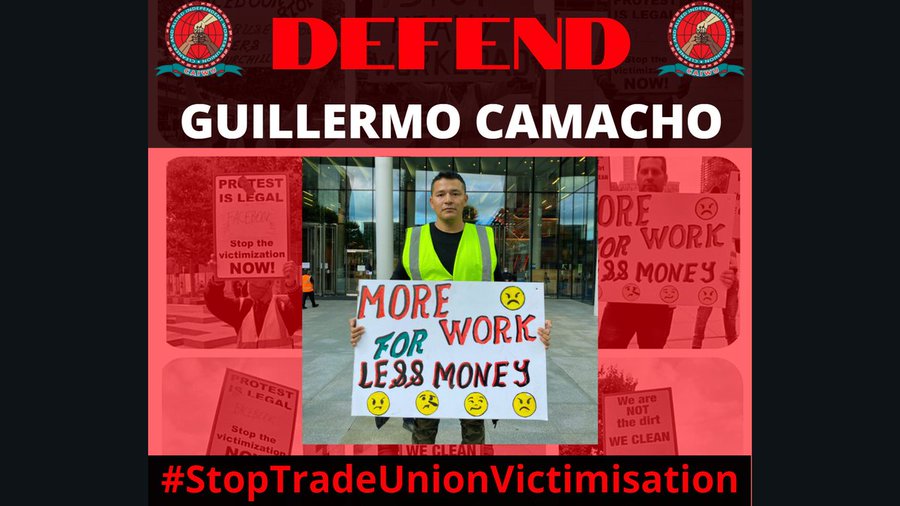 At Facebook, a cleaner and CAIWU member involved in union organising against impossible workloads has been taken to a disciplinary and now sacked. CAIWU seem to be holding fairly regular Friday protests at Facebook's offices at the moment, and also suggest that groups could invite Guillermo Camacho or one of his coworkers to address their meetings to raise awareness of the dispute.
Final notes: ACORN members have been involved in resisting an eviction in Cornwall, and the last few days have also seen Stagecoach drivers organised through the RMT voting for strike action over pay in Derbyshire and the South West, and workers at four Tesco distribution centers rejecting a pay offer, meaning that they'll now move to being balloted for strike action.
---
Source:
Nothingiseverlost.wordpress.com