The police has broken in rector's building at Lleida University. They will arrest @PabloHasel imminently.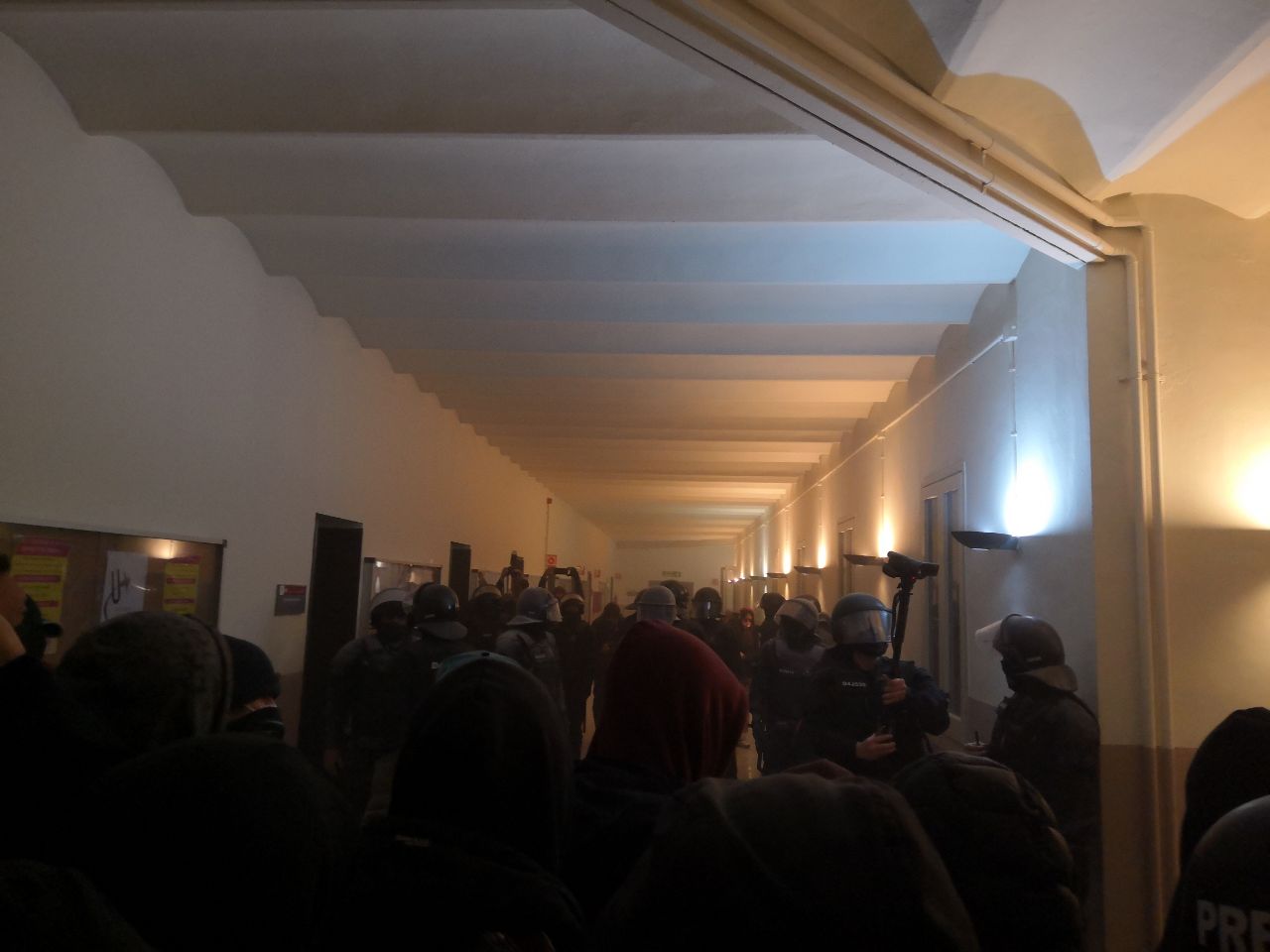 Rapper @PabloHasel has been detained and will be transferred to prison due to his tweets and lyrics against monarchy and police. We've said that repeatedly: Spain does not respect fundamental rights and it is a European problem!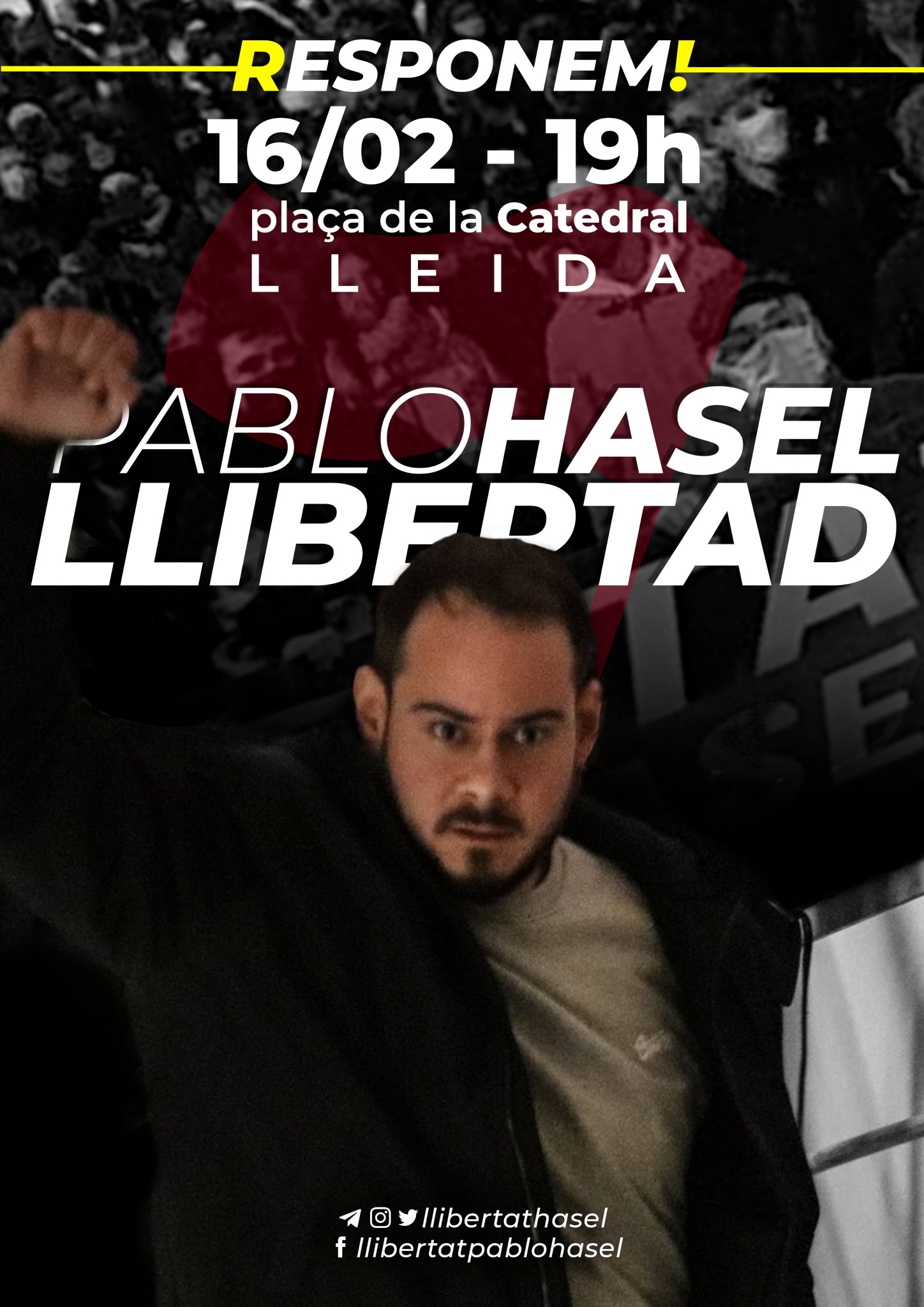 Abel Riu@abel_riuComplete silence at the @EU_Commission concerning the jailing of Catalan rapper @PabloHasel for songs and lyrics. Then all will be cries and laments the next time the Russians humiliate the EU for double standards on human rights issues.
Pablo Hasel and supporters occupy rectory of the University of Lleida to resist jail for Rapping
Pablo Hasel is locked in the rectory of the University of Lleida to avoid arrest
The rapper from Lleida, who has to serve almost three years in prison, has occupiedwith members of his support group
Pablo Hasel
The rapper Pablo Hasel is entrenched with a support group for the rectory of the University of Lleida. With this action, he wants to avoid his arrest and imprisonment for two sentences totaling almost three years. "Everyone Come to the rectory," the support group appealed.
Amnesty International considers it "unfair and disproportionate" for Pablo Hasel to go to prison
Last Friday, the deadline for the Spanish High Court for the rapper to voluntarily go to prison expired.
"I am locked up with a lot of solidarity at the University of Lleida, they will have to break in to arrest and imprison me," tweeted Hasel from inside the rectory.
*******
Why is Pablo Hásel going to prison?: Gag Law, Tweets, a song and Telling Truth to Power
Pablo Hasel in the land of Gag Laws
By Carlos Escaño in AI Published on Feb 13, 2021
It seemed like it would never come, but that day finally came. Perhaps we are witnessing the last days of that coup to our rights and freedoms in 2015 that was carried out with the reforms of the Penal Code and the Law for the Protection of Citizen Security. Some reforms, which for that reason to summarize in two words and focus on their impact on freedom of expression, were dubbed by civil society as Gag Laws.
After six years marked by dozens of convictions and hundreds of thousands of fines for exercising freedom of expression, assembly and information, it seems that this time the gags can be ended, or at least in part. Last Monday the government announced a reform of the Penal Code (el gobierno anunció una reforma del Código Penal), specifically the crimes of insults to the Crown or outrages to the Spanish flag, and those that deal with the glorification of terrorism. And just over a week ago, the plenary session of the Congress of Deputies voted against an initiative of the popular group that sought to stop the reform of the Citizen Security law.
Public pressure of course is essential. In these days dozens of mobilizations, ( decenas de movilizaciones,) hundreds of artists and thousands of messages on networks have denounced that the Spanish State has come to head the list of countries that have retaliated the most artists. Although it is not a reason for joy that the trigger had to be new bad news: the conviction and imprisonment of rapper Pablo Hasel for what he says in a song and some tweets.
The sentence has been for the crimes of glorifying terrorism, insults against the Crown and against State institutions. After the cases such as those of the Puppeteers, Casandra or Cesar Strawberry,, the institutions of the Spanish State are starring in a new international show with the case of Pablo Hasel, who could be one of the first rappers in Europe to go to jail for saying so. what do you think.
Hasel's imprisonment for his artistic expressions is unfair and disproportionate (injusto y desproporcionado )and highlights the need to eliminate the articles of the Penal Code that violate the right to freedom of expression. The crimes of exalting terrorism, insults against the crown and the institutions of the State and offense against religious sentiments must disappear from the Penal Code….
Cesar Strawberry
Cesar Strawberry. © Alejandro Navarro Bustamante, CC BY-SA 3.0, via Wikimedia Commons
' On Friday 12th Feb at 8:00 p.m. the deadline for voluntarily entering prison ends. It would be an unworthy humiliation to go voluntarily after such an unjust sentence. They will have to come to kidnap me. Solidarity is still lacking to stop this serious attack on our freedoms."
note: It is now late Monday and no news of Pablo being arrested yet. Hundreds of supporters are blocking the barricaded doors. A LAST MINUTE APPEAL TO THE HIGH COURT HAS BEEN REJECTED. The rector has given permission to the 'Catalan' riot police to attack, not that they needed it.
It had been hoped that the once radical left Podemos Party who hold the balance of power, would pressure for a compromise, but it seems no one will back down!
There are calls for a riot if and when Paablo is kidnapped and activists are already enraged after a severe beating of a couple by drunken cops in Linares and repression of a following protest with live fire injuring several.
On top of all that a straight nazi demonstration was given permission to march around Madrid with huge police protection!
Pablo Hasél had already announced that he has no desire to spend time behind bars and would not hand himself in.
The rapper, whose real name is Pablo Rivadulla Duró, is condemned for exalting terrorism and insulting the Monarchy in 64 tweets and a song that ridicules Juan Carlos I, the retired king in exile in Abu Dha.
However, his reply to the courts is clear and shows in a crystal clear way that he does not regret: the same day his term to enter prison expires, the Lleida man has released a new song in which he harshly charges against the current monarch, Felipe VI.
To understand the sentence against the young people of Altsasu, the imprisoned Catalan leaders and Pablo Hasel, it would be necessary to resort to the Aznar Doctrine, which would have the ultimate objective "to criminalize groups and entities that are unruly and refractory to the message of the dominant establishment of the Spanish State."
Rapper Pablo Hasel.
Freedom of expression https://www.youtube.com/embed/4qRZ8Q5ap8E?version=3&rel=1&showsearch=0&showinfo=1&iv_load_policy=1&fs=1&hl=en&autohide=2&wmode=transparent
The subject begins with an intervention by the King in which he defends -this week- freedom of expression and, after dedicating it to the "so misnamed progressive government" (for almost half a minute of the four it lasts, Hasél spits out a "initial to the Monarch and begins his rhyming diatribe, his" republican cry "." I hate the oppressive reign, let your family eat from the rubbish bins ", he insists during a recording made in the capital of Segrià.
Protests against Felipe VI and Letizia in Menorca kept out of the royal gaze El Nacional
Spanish Monarchy Spanish government respects Juan Carlos I's decision to leave and praises Felipe VI
Former lover Corinna warns that Juan Carlos I has "hundreds of accounts" globally El Nacional
An English mansion owned by Juan Carlos I's ex-lover, a new focus in royal probe
https://platform.twitter.com/embed/Tweet.html?creatorScreenName=thefreeonline&dnt=true&embedId=twitter-widget-12&frame=false&hideCard=false&hideThread=false&id=1359946315329904647&lang=en&origin=https%3A%2F%2Fthefreeonline.wordpress.com%2F2021%2F02%2F12%2Fwhy-is-pablo-hasel-going-to-go-to-prison-tweets-a-song-and-telling-truth-to-power%2F&siteScreenName=thefreeonline&theme=light&widgetsVersion=889aa01%3A1612811843556&width=550px
"The Civil Guard examines what I feel / I'm going to say like Corinna: 'Guillotine!'", Proclaims Hasél, evoking Corinna zu Sayn-Wittgenstein and before recalling the machine that executed the death sentences in the French Revolution.
Warnings that without escorts "fear will come to the palace" are repeated in a rosary of darts to the Zarzuela, only interrupted by the pounding chorus: "There is no one who can take this away from me or Felipe VI / I show the truth in the return address of my text ". In addition, characters such as Princess Leonor, her mother Letizia Ortiz (whom he accuses of using being unhinged by botox), Joan Manuel Serrat (stressing that she has asked for her freedom)
Pablo Hasél, in Lleida, last Tuesday.
Interview
Pablo Hasél: "I will never ask for pardon because that would be repentance"
The video, which has more than ten thousand views on YouTube, assures that "this rap will sound like stones against Vox", and in it Hásel affirms that he will never be "in the prison of fear" and that his microphone "will continue being uncomfortable. " In fact, Hasél calls them "Franco's sons" those who have condemned him for "being frank."
If Hasél wields his poetry to emphasize that he will not go to prison gates voluntarily, he has also insisted on his determination through prose. "They will have to come to kidnap me," he said on Twitter, the social network that has caused him so much pain.
He has a deadline to enter prison until 8:00 p.m. this Friday, but he will not go: "It would be an unworthy humiliation to go on my own feet before such an unfair sentence. "Solidarity is still lacking to stop this serious attack on our freedoms," he said.
''Today at 8:00 p.m. the deadline for voluntarily entering prison ends. It would be an unworthy humiliation to go on my own feet before such an unjust sentence. They will have to come to kidnap me. Solidarity is still lacking to stop this serious attack on our freedoms."
ç https://www.youtube.com/embed/FrpbStXSLBo?version=3&rel=1&showsearch=0&showinfo=1&iv_load_policy=1&fs=1&hl=en&autohide=2&wmode=transparent
Some of the Twitter Messages… (ROUGH translation, you need to explain the context and history!)
50 police officers injured? These shitty mercenaries bite their tongues hitting hosts and say they're wounded. (23/03/2014)
Now the riot police are crying when they have always beaten and tortured thousands and thousands of people, they have evicted them with blows, etc. (03/25/2014)
the Spanish Royal Family…barricada gráfica
They try to hide that many people have come out today to demand the end of the fascist monarchy and even beat journalists. (03/30/2014)
Nazi-onal police torturing even in front of the cameras. (03/30/2014)
Do you kill a policeman? They look for you even under the stones. Does the police kill you? Nor is it well investigated. (04/04/2014)
The Bourbon mafioso partying with the Saudi monarchy, among those who finance ISIS, everything remains. (02/12/2014)
Faced with State terrorism, the organized neighborhood (12/29/2015)
They want to exterminate him like his comrade [la grapo] Isabel Aparicio. Let him know. (01/20/2016)
One of CUP speaking clearly against the monarchy while IU is giggling with this in the Zarzuela. (01/21/2016)
Policemen who imprisoned with Franco and are now incarcerated as judges of the Nazi-onal Court. (07/02/2016)
[The ETA member] Joseba Arregi murdered by the police torturing him. (02/14/2016)
Ada Colau will not call the King a criminal for selling arms to Saudi Arabia or living in luxury at the cost of misery, she criminalizes the strike. (02/21/2016)
And so it was, they ended up exterminating her. [Attach an image with a text by Isabel Aparicio grapo]. (04/01/2016)
---
Source:
Thefreeonline.wordpress.com