March 13, 2021 info from enough14 / Riot Turtle/ /blogyy.net/— shared with thanks .. illustrations added .. Leave a comment
Statement by Dimitris Koufontinas' physicians of choice : Health condition very critical
Greece. March 13. 2021. Today the physicians of choice (Thodoris Sdoukos and Katerina Douzepi) of Dimitris Koufontinas issued a statement saying that the health condition of Dimitris Koufontinas is very critical.
Submitted to Enough 14. Translated by Riot Turtle with the help of an automatic translation software. He asks our readers to forgive minor mistakes in this translation
Hunger striker Dimitris Koufontinas is on the 65th day of hunger strike today
The ICU physicians describe his condition as unstable
He is hospitalized for the 25th day in the ICU of Lamia hospital, with total abstinence from feeding from January 8, 2021, and he is unable to take fluids through his mouth since February 11, when he was forced to accept the placement of a hydration serum.
On February 22, he voluntarily discontinued the hydration serum, which has been repositioned in the last few days after a hypovolemic etiology due to acute kidney failure, by complete fluid abstinence.
______________
'KOUFONTINAS REANIMATED AGAINST HIS WILL'
"For a few days, several ministers and then the prosecutor had warned, raising their voice: letting the prisoner die would be liable to prosecution. An hour ago, the doctors and nurses at Lamia hospital therefore complied with orders: they have just resuscitated Dimitris Koufontinas when he was on the verge of death and that he had clearly asked that no one does not intervene".…full details here in French koufontinas-reanime-contre-sa-volonte/translation thefreeonline
_____________
…On the other hand the hospital's medical and nursing staff strongly state that they will respect medical ethics with respect to the striker's stated will, but point out that even if the striker decides to accept their services, attempting to recover him is a lengthy and painful process due to the boundary point that has been reached, and carries the risk of a variety of disorders ("re-feeding syndrome").
His condition is very critical due to numerous and complex accumulated disorders of organic systems, with an obvious risk of permanent damage and deficiencies but also a constant potential risk of sudden death.
A more detailed description of the disorders of the striker today is as follows:….. READ HERE
Therefore, even if the hunger strike is stopped immediately, it can only be assumed after some time that the danger to life can be averted, while it is not possible to predict whether permanent organic damage has been prevented.
Athens March 13, 2021 The physicians of choice of the hunger striker: Thodoris Sdoukos, General Practitioner, Director of the National Health Service Katerina Douzepi, , Anesthesiologist-Intensive Care Specialist, Curator of the National Health Service
Riots in Athens, in turn the Council of State rejects the request of Koufontinas, Rouvikonas in the cross hairs of power
Athens. Greece. Tuesday, March 9, 2021. Dimitris Koufontinas is still alive. Revolts multiply against the arrogance of power and fierce repression. The number of wounded is high, including a policeman who is seriously injured.
Originally ptblished by BlogYY. Written by Yannis Youlountas. Translated by Riot Turtle.
While doctors are concerned about the exhaustion of the hunger striker (for 61 days), the State Council today rejected the request for a temporary order to freeze his transfer to the high-security prison of Domokos (request for a temporary order to freeze the decision).
It is becoming increasingly clear that this decision was purely political, taken on a high level, and nothing else. The government is trying to push the prisoner to the limit, depriving him of the possibility of returning to see his son, among other sufferings, while he has been in prison for 19 years after surrendering himself to the police(1).
Ironically, despite the fact that Dimitris Koufontinas is more than ever on the verge of death and the state affair that this matter has become, the Court of Cassation claims that it will not be able to examine his request before April 2, i.e. in 3 weeks!
The government also appears to be seeking to neutralize Rouvikonas, starting with two of its most active members: Giorgos and Nikos. Among other threats, a trial is being prepared against our two comrades in struggle to find them guilty of the assassination of drug dealer Habibi in Exarcheia.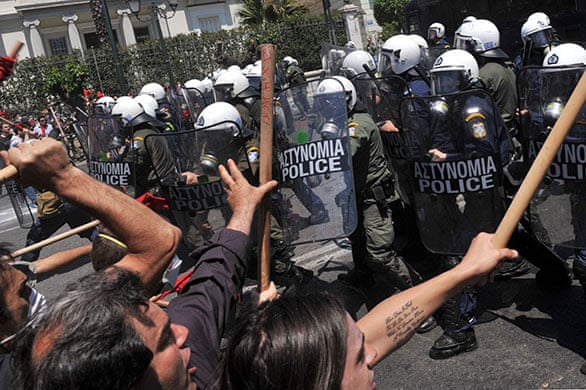 In what way? We have just learned that (false) witnesses have been linked with notorious drug traffickers who were strangely released immediately after their testimony against Giorgos and Nikos. We are in a complete insanity! Have the colonels returned to power with their shenanigans from the same barrel at the time?
These days, the Rouvikonas group is more closely watched than ever, no doubt in an attempt to hinder its participation in the revolt that is spreading.
Another major fact in Greece: as I announced two months ago, the arrival of the defector from the far right (2), Makis Voridis, as head of the Greek police force has only reinforced his cruelty against us and against the migrants.
The repression against demonstrations has reached a level that we had not seen for a long time. But a drop of water broke the camel's back: the aggression against people who were relaxing peacefully in a park in the Nea Smyrni neighborhood, under the pretext of not respecting the confinement (which is still in force in Greece).
It is important to know that, night and day, the cops rotate all over Athens, hitting at random and playing manhunt for anything and everything. Our elders feel like they are 50 years back in time.
This can no longer last: the revolt is intensifying and the resistance is diversifying, day and night. Athens is on fire(3).
Tonight, a riot broke out in Nea Smyrni. Clashes between the police and rioters were hand-to-hand, finally putting the police on the run. Among the injured was a policeman with serious head injuries.
Elsewhere in Athens, the police used grotesque and shameful retaliations for example against taggers.
Tension continues to rise in Greece. An earthquake recently hit the center of the country; another, this time social, is beginning to shake the government.
Video: Athens March 9, 2021: Clashes in the Nea Smyrni district – Cops on the run (Footage by @human_wannabe_
https://kolektiva.media/videos/e….
Notes
(1) I will tell you tomorrow about the context of this surrender in 2002, with a video of the time to illustrate it.
(2) http://blogyy.net/2021/01/11/extreme-droitisation-du-gouvernement-et-autres-nouvelles/
(3) "Athens is on fire" as I titled it 4 days ago, not that it burns massively, of course! (I received two emails on this subject) In French, to ignite it also means to get angry, including by means of incendiary attacks against ministries, ATMs, etc. It also means the massive return of Molotov cocktails, like tonight. So it is not a "big fire" in the city, but multiple and continuous retaliation against the arrogance of power and its henchmen. However, these small fires that are breaking out everywhere, as well as the anger at the end of the fire, are beginning to foreshadow something else.
Athens: "The cops out of our neighborhoods" – Demo in Nea Smyrni district after increasing police violence [Video & report]
March 13, 2021 info from enough14 / Riot Turtle/ /blogyy.net/— shared with thanks .. illustrations added .. Leave a comment
Related Posts
---
Source:
Thefreeonline.wordpress.com