By: Germán Muñoz González https://elturbion.com/16015
This is the social outbreak of a majority of the population, particularly young people, who no longer accept the violation of their legitimate right to a dignified life.
Since I was born, the same year as the Bogotazo, I have practically always lived under a state of siege or emergency or internal commotion, which could be translated as Violence, with a capital letter, but with a garb of legality.
La Violencia has been a kind of historical fatality from which there seems to be no escape for Colombians. It has been a blind knot, a tangle of threads where phenomena such as corruption, guerrillas, drug trafficking, paramilitarism, political opposition or social protest fit. All of them are tied to the same plot, without explanatory roots.
Today we need to understand the historical origin of this Violence, that is, social inequality, and contrast it with the figure of the 'internal enemy', which has become the favorite rhetoric to combat it and which periodically changes its name (Castro-Chavism has been the formula most used so far in the 21st century).
I can attest that in 70 years of life I had not seen what I have witnessed in the two weeks that have elapsed from April 28 to date. I remember many protests and demonstrations: the most notable, perhaps, the national strike in September 1977, in which hundreds of wounded were counted, about 30 people killed, most of them young people under 25;
Not to mention the student movement that emerged in 1971 and, of course, the Violence in the national territories in that undeclared civil war that broke out in 1948 with the assassination of Jorge Eliecer Gaitán, the founding moment of the guerrilla phenomenon.
There have been seventy long years of war that did not end with the signing of the peace agreement in 2016. Let us remember that the massive support of the young people was decisive in demanding the endorsement of the agreement.
Nor do I forget the student movement led by the National Student Broad Table (MANE), which in 2011 managed to challenge an entire government and stop a reform proposed by President Juan Manuel Santos to Law 30 of higher education in Colombia. Much less the agrarian strike of 2013 or the historic strike of November 21, 2020, in which people protested against the pension, labor and educational reforms, and in favor of the peace agreement signed between the State and the FARC.
Closer still are the marches from September 9 to 21, 2020 to protest against extreme police abuse, the mismanagement of the Government in the face of the economic and social crisis caused by the pandemic, and to raise a voice that said 'enough is enough' to the massacres in the country, which had no truce despite the confinement measures.
In particular, it is necessary to highlight the Minga of the Colombian Southwest, led by indigenous organizations in October 2020, which moved by its slogans and courage, managing to mobilize a large part of society around its demands after its peaceful tour of the country, obtaining the favorable opinion of millions of people who received them warmly in each city during their trip to the capital.
The police murdered in cold blood 16 year old Marcelo Ágredo. By now over 50 people have been killed by the police and nazi mercenary allies, and countless people are still "disappeared", but the resistance goes on. #NoMasViolenciaPolicial #nomasmuertes
However, last week and the weekend I have witnessed with immense gravity, as were all Colombians and, through computer networks, the entire world – but especially, live and direct, the inhabitants of Cali and Bogotá – from an unknown scenario, from an unprecedented escalation of Violence, from a 'war' unleashed against the civilian population raised in a just protest and that, using sophisticated weaponry of the latest generation, has put terror into play. as state policy.
I never imagined that devices developed for the United States Marine Corps would arrive on our streets with stun ammunition, irritating gases and high-impact pellets, lethal weapons created for wars between armies. Much less did I think it possible that we would reach this immense and growing toll of dead, wounded, tortured, disappeared and abused.
Baltazar Garzón is talking about the asymmetric confrontation of "stones against rifles." It has been worse: indiscriminate fire against the protesters, in broad daylight and under the complacent and shameless gaze of the Public Force.
The news from the media companies repeat ad nauseam that it is about 'vandals' and 'terrorists'. Neither word names what is happening, but both speak of latent fears and threats for a part of the population.
The social outbreak reflects the anger, indignation, and repudiation of a majority of the population that no longer accepts the violation of their legitimate right to a dignified life, in particular of ordinary young people, not belonging to organizations or parties, who they have occupied the front lines of the street marches, which have mobilized and have seen their friends being massacred.
Juvenicide, consensual sacrifice of those who 'do not deserve to live'
I am part of a group of researchers from various countries in Latin America and Europe that deals with juvenicide. The word is a neologism that has been in existence for six years, derived from the word feminicide, with which it is closely related. We are summoned by a simple question: what do young people in Latin America die of? In Colombia, the first response is that they are killed and killed (commit suicide).
These days, it has become clear that Colombia is a country where juvenile crime is part of the daily routine. There are names that entered our history and our gallery of affections: Dilan Cruz, murdered on November 25, 2019 in Bogotá; Nicolás Guerrero, on May 2, 2021 in Cali; Kevin Agudelo, in Cali on May 3, 2021; Lucas Villa, on May 5, 2021 in Pereira. So many others from a list where there are also the 6,402 of the pantheon called 'false positives'.
In all Latin American countries there is a long list of systematic murders of young people, not accidental, not accidental or red-page: they are planned murders. In some countries, such as Mexico, Brazil and Colombia, the figures are outrageous (remember last week's massacre in a Rio de Janeiro favela and that of Ayotzinapa on September 26, 2014).
Mesa de diálogo sin consenso en Colombia: sigue el paro
More than once they have coincided with dictatorships that have made assassinations their daily bread. Another thing is that they are not talked about, they have remained invisible or have been socially accepted, they produce indifference, they are part of the landscape.
Speaking of juvenicide supposes murders, almost always atrocious and brutal, which are called 'extrajudicial executions' and are accompanied by forced disappearances and multiple forms of torture.
Any other form of attempt against the lives of young people is also juvenicide: job insecurity, exclusion from public life, silencing and demonization in the mass media, limitations on their rights, the prohibition of their mobility within limited territories, curtailment of freedoms, open repression.
Juvenicide is to amputate them the possibility of living a dignified and meaningful life, denying them an image with truth content, representing them as pre-criminals or as causing danger to the entire society.
This, because not only are young people killed with bullets, they are also killed by erasing them from social, economic and political life, eliminating their face, their good name, turning them into social danger and creating stigma in public opinion.
Two concepts are capable of accounting for this painful reality in the current context. The first is necropolitical, according to those raised by Achille Mbembe, which is generated from two fundamental questions: who deserves to live? Who must die? Undoubtedly, in Colombia young people are on the list of those who must die.
They are expendable. Some more than others: the poor, the blacks, the indigenous peoples, those who are no longer afraid of facing power because they have lost everything. Consequently, necropolitica is governing human beings in relation to death. It is no longer the government of life only, it is the government of the death of human beings.
The painful present of many young people occurs on the horizon of necropower, where those who have been called 'the future of the homeland', protagonists of the happiest moment in life, are permanently violated and precarious. The absolute power allows to dictate who lives and who dies, to use horror and fear as a model of government.
Second, the notion of the penal state constructed by Loïc Wacquant seems fundamental to understanding juvenicide. To understand necropolitics, one must understand the theory of the State after September 11, 2001, in the society of the fight against terrorism. It is a state that represses everyone to death
those that it considers as potentially terrorist, that represses disorders generated by mass unemployment because it generates disorders. Likewise, it represses those who do not have a future and will not have it, those who do not have opportunities, those who live in uncertainty because they generate risks for others. He punishes the poor, the outcasts with an iron fist and prisons of misery. Decrees the death penalty for blacks, indigenous people, women, and young people.
Let us remember, in the Colombian case, the atrocity called "false positives" that refers to casualties in combats that did not exist, a rogue euphemism. They were intentional, planned and systematic murders of Colombian civilians, an unarmed population (some with disabilities), presented by the Army as deaths in combat in order to show successful results and obtain financial rewards.
They were caught on the streets of the popular neighborhoods, tricking them with job offers because they were unemployed. It ended up being a policy of extermination of poor young people, without work. Juvenicide is, in this case, extreme cruelty committed by a criminal State. They are State crimes against a supposed enemy.
Zaffaroni notes that the enemy is the civilian population, the enemy is the young, the enemy is the poor, the enemy is the blacks of the favelas because they have the profile of those who are sacrificial and nothing happens. In Colombia they are poor young people who live in marginal areas: Siloé and Aguablanca in Cali, Ciudad Bolívar and the peripheries of Bogotá, the poor communes in Medellín.
Although this event has a long history, it is neither visible nor perceptible and there is no political action against this macabre reality that has entrenched itself in the social and political life of Latin America, which has become naturalized in the midst of the war and which has existed amid impunity. It is clear that juvenicide is systematic, socially accepted and that young people do not hurt our societies because they are seen as a social danger.
The identities of these young people are discredited, they are constructed through prejudices, stereotypes, stigmas and racism that produce criminalization, vulnerability, defenselessness, radical subalternities (as Gramsci calls them) or rogue identities, vulnerable lives and lives that can be suppressed.
The precarious lives of young Colombians do not deserve to be protected. Grenades are fired indiscriminately from tanks at those with their youthful faces, while Blackhawk helicopter gunships watch them from the air.
Lucas Villa's phrase, premonitory the day before he was shot in Pereira, is lapidary: "right now in Colombia, just being young and on the street is risking your life." "The Nobody" are the young people of the most unequal country in Latin America, this being the most unequal continent in the world. The war is against them, their resistance is from 'nothing'.
Challenges for the popular struggle in Colombia

By Juan Diego García | 05/17/2021 | Colombia https://elturbion.com/16015
It is probable that Duque wants to entangle the exit to the strike in endless sterile dialogues to weaken the opposition movement.
Opposition to tax reform in Colombia has borne fruit. The government decides to withdraw it with the formulation that caused the popular uprising, but only to give it a new shape and thus weaken the opposition and end up imposing a similar figure.
Another thing is to get it. The same reasoning is valid for the proposal to reform the health, education and pension systems, all with the same neoliberal philosophy and all of them provoking the rejection of broad social sectors.
The National Unemployment Committee, which met today with the president, will be able to calculate how far it is possible to advance, how far the system is willing not only to promise and not fulfill, which is its usual policy, but to specify the agreements in real measures .
It must be considered, however, that for a considerable advance it would be necessary for the Duque government to change the neoliberal philosophy of his politics, generating new realities in the country.
Some with good wishes might venture that the president will bet on adhering to Biden's probable new orientation, introducing some form of Keynesianism, if the American president is allowed by the big bourgeoisie such changes, the mere mention of which already arouses the frank opposition of important leaders. business groups.
If by any chance Duque opted for such a change, the pressure from the groups of the Creole bourgeoisie, which derive so many benefits from the current neoliberal model, would be enormous, without ruling out the maneuvers of international capital – the financial centers, above all – that have weapons. much more powerful than the local oligarchy.
The Colombian president has another important obstacle: he only has a few months left for next year's legislative elections and especially for the presidential elections, so that his margin of action is quite short if he decides to introduce changes to satisfy the demands. popular.
In reality, it is much more likely that Duque will entangle the process in endless sterile dialogues to weaken the opposition movement and manage to leave to the next government that time bomb of popular discontent, which will not be possible to defuse and which will surely explode again sooner than late.
The current president also has the pressure of those who have brought him to the government and do not seem willing to accept even the smallest concessions.
The power behind the throne, the far-right Uribe Vélez, has so far managed to impose its 'strong hand' strategy, leaving the management of the problem in the hands of the military and police, savagely suppressing the protest but without being able to appease it.
On the contrary, this movement that has some initiating organizations, especially the National Unemployment Committee, and is currently accompanied and greatly expanded by a spontaneous reaction of the population that has surprised everyone by its vigor and its permanence, despite of having suffered a brutal repression that even the UN, the European Union and many governments and human rights entities regret – that is all that diplomatic language allows – while calling for calm and asking Duque to find solutions through dialogue.
In short, the current government and the political and social forces that support it appear unable to control the situation and until this Monday, May 10, basically, they have handed over the management of the problem to the barracks, an old custom of the regime. Colombian that thus has its own version of the military coup.
It remains to be seen if, after the dialogue started today, a new procedure can be started, withdrawing the troops from the streets, abandoning the language of demonizing social protest and controlling the armies of the armed extreme right, made up of both people from the neighborhoods. wealthy as well as criminal elements, who are already going out to shoot at the demonstrations with the complicity of the Police, as recorded in Cali, Pereira and other parts of the country.
Likewise, it would be necessary to verify that a measure of this nature makes it possible to reduce isolated acts of vandalism that, on many occasions, are caused by infiltrators of the so-called "forces of order" in a well-known tactic aimed at criminalizing peaceful marches.
The opposition movement also has challenges to overcome. The first of all, without a doubt, is to manage to maintain the unity of so many disparate sectors that converge in unemployment, properly manage the demands in accordance with the real correlation of forces and find the formula so that what is debated at the table of negotiations is fulfilled and does not remain a dead letter.
The experience of so many unfulfilled promises to students, indigenous people, black people and wage earners from various sectors is undeniable ; as well as the breach of the agreement with the unarmed FARC guerrillas, whose members are assassinated daily by hidden forces but evidently very well supported and whose extreme right-wing nature is undeniable. In the case of the systematic murder of leaders of popular movements who oppose the plundering plans of large multinational and national companies, landowners and land grabbers, is the traditional principle of asking first of all who benefits from these murders not valid?
Surely, the same National Unemployment Committee has been surprised by the enormous popular reaction that has practically spread throughout the country: protest movement in large cities and small towns, highways and roads, squares and streets, and even in homes who, in their own way and possibilities, protest daily by clanging pans, waving flags and chanting slogans of support.
In all these places people of all social classes, ethnic groups and conditions appear, even groups of Catholic priests and other faiths come out to join the marches knowing, all of them, the risk they assume. No less important is that this spontaneous movement is repeated all over the world, bringing together people from Colombia together with local citizens of all shades who support the protest.
All this mobilization, with its strength, freshness and vigor, with its spontaneous nature, requires that those who lead the mobilization know how to maintain an enriching dialogue with those mobilized so that everything that is achieved at the table of talks is the product of the harmonization of these two key principles in any change process: duly coordinated organization and spontaneity.
It is too early to know what the evolution of this exciting Colombian process will be. It could be that certain reforms are achieved or at least those that are underway are stopped. Maintaining the unity of so many people –which include by no means negligible sectors of the middle classes– will then be decisive and it cannot be emphasized that this struggle can serve to advance in the formation of a broad front that achieves a significant victory in the next parliamentary elections. and, of course, to remove the extreme right from the government in the presidential elections next year.
Nor should we forget that Creole fascism is there and that, for them, the option of a full military regime should not be ruled out either.
Original source: https://elturbion.com/16015
Levantamiento popular: los jóvenes en primera línea
Alma Cubanita
Related
Police/army kill maim and detain in national strike on April 28/29 in Colombia. Eng /Esp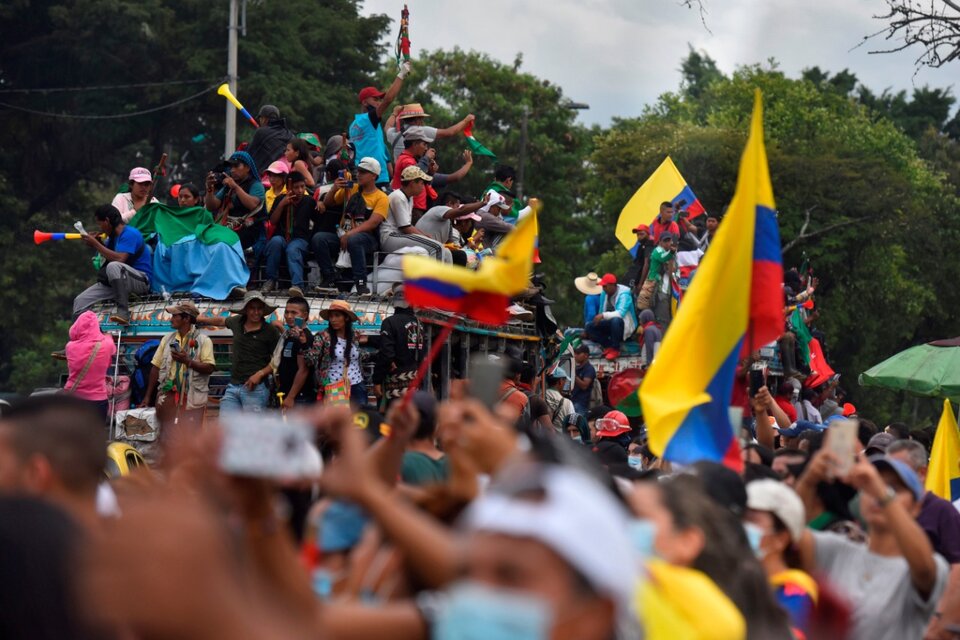 Colombian General Strike victory.. Reports on slaughter and repression.. Ongoing Revolt.. Eng/Esp
Colombian General Strike Day 5 .. Up to 20 dead as police and army attack.. Bloodbath in curfewed Cali.. Duque backing down! Eng/Esp
originales en castellano
Levantamiento popular: los jóvenes en primera línea
13 mayo, 2021escribano Por: Germán Muñoz González
Este es el estallido social de una mayoría de la población, en particular de los jóvenes, que no acepta más la violación de su legítimo derecho a la vida digna.
Desde que nací, el mismo año del Bogotazo, he vivido prácticamente siempre bajo estado de sitio o de excepción o de conmoción interior, lo cual se podría traducir como Violencia, con mayúscula, pero con ropaje de legalidad.
La Violencia ha sido una especie de fatalidad histórica de la que pareciera no haber escapatoria para los colombianos. Ha sido un nudo ciego, una maraña de hilos donde caben fenómenos como la corrupción, la guerrilla, el narcotráfico, el paramilitarismo, la oposición política o la protesta social. Todos ellos están atados a una misma trama, sin raíces explicativas.
Hoy necesitamos comprender el origen histórico de esa Violencia, es decir, la desigualdad social, y contraponerla a la figura del 'enemigo interno', que se ha convertido en la retórica predilecta para combatirla y que periódicamente cambia de nombre (castrochavismo ha sido la fórmula más usada en lo que va corrido del siglo XXI).
Paro Nacional en Colombia HOY 6 de mayo 2021
Puedo dar fe de que en 70 años de vida no había visto lo que he presenciado en las dos semanas que han trasncurrido del 28 de abril a la fecha. Protestas y manifestaciones recuerdo muchas: la más notable, tal vez, el paro nacional de septiembre de 1977, en el cual se contaron centenares de heridos, cerca de 30 personas muertas, la mayoría jóvenes menores de 25;
sin hablar del movimiento estudiantil que surge en 1971 y, por supuesto, de la Violencia en los territorios nacionales en esa guerra civil no declarada que se desencadó en 1948 con el asesinato de Jorge Eliecer Gaitán, momento fundante del fenómeno de las guerrillas.
Han sido setenta largos años de guerra que no terminan con la firma del acuerdo de paz en 2016. Recordemos que el respaldo multitudinario de los jóvenes fue definitivo para exigir la refrendación de lo pactado.
Tampoco olvido el movimiento estudiantil liderado por la Mesa Amplia Nacional Estudiantil (MANE), que logró en 2011 desafiar a un gobierno entero y parar una reforma planteada por el presidente Juan Manuel Santos a la Ley 30 de educación superior en Colombia.
Mucho menos el paro agrario de 2013 o el paro histórico del 21 de noviembre de 2020, en el que la gente protestaba en contra de las reformas de pensiones, laboral y educativa, y a favor del acuerdo de paz firmado entre el Estado y las FARC.
Más cercanas aún son las marchas del 9 al 21 de septiembre de 2020 para protestar en contra del extremo abuso policial, del mal manejo del Gobierno ante la crisis económica y social provocada por la pandemia, y para sentar una voz que dijera 'basta ya' a las masacres en el país, las cuales no tuvieron tregua a pesar de las medidas de confinamiento.
En especial, hay que subrayar la Minga del Suroccidente Colombiano, liderada por las organizaciones indígenas en octubre de 2020, que emocionó por sus consignas y valentía, logrando movilizar a una gran parte de la sociedad en torno a sus exigencias tras su recorrido pacífico por el país, logrando la opinión favorable de millones de personas que los recibieron calurosamente en cada ciudad durante su viaje hasta la capital.
Sin embargo, la semana pasada y el fin de semana con gravedad inmensa he sido testigo, como lo fuimos todos los colombianos y, a través de las redes informáticas, el mundo entero –pero especialmente, en vivo y en directo, los habitantes de Cali y de Bogotá– de un escenario desconocido, de un escalamiento de la Violencia sin precedentes, de una 'guerra' desatada contra la población civil levantada en una justa protesta y que, valiéndose de armamento sofisticado de última generación, ha puesto en juego el terror como política de Estado.
Nunca imaginé que a nuestras calles llegarían dispositivos desarrollados para el cuerpo de marines de los Estados Unidos con municiones aturdidoras, gases irritantes y perdigones de alto impacto, armas letales creadas para guerras entre ejércitos. Mucho menos pensé posible que llegáramos a este saldo inmenso y creciente de muertos, heridos, torturados, desaparecidos y abusados.
Baltazar Garzón está hablando del enfrentamiento asimétrico de "piedras contra fusiles". Ha sido peor: fuego indiscriminado contra los manifestantes, a plena luz del día y bajo la complaciente y desvergonzada mirada de la Fuerza Pública.
El paro nacional ha llegado a lugares recónditos del país, donde nunca antes llegaba, y se ha mantenido sin dar tregua desde el 28 de abril. Ha desnudado las grietas del famoso modelo económico neoliberal, estable y ortodoxo, y ha mostrado palpablemente que en esta democracia formal, supuestamente estable, la clase política es incapaz de llegar a soluciones y su único recurso es la fuerza brutal de las armas.
Nunca antes se había hecho tan evidente la desconfianza y falta de credibilidad de la población sobre la clase política, las fuerzas armadas y los medios masivos de seudoinformación. «Lo que estamos viendo es un descontento generalizado y quizá irremediable, es casi una situación prerevolucionaria», dice Carlos Caballero Argáez.
Los noticieron de las empresas mediáticas repiten hasta la saciedad que se trata de 'vándalos' y 'terroristas'. Ninguna de las dos palabras nombra lo que está sucediendo, pero ambas hablan de miedos y amenazas latentes para una parte de la población.
El estallido social recoge la rabia, la indignación, el repudio de una mayoría de la población que no acepta más la violación de su legítimo derecho a la vida digna, en particular de los jóvenes comunes y corrientes, no pertenecientes a organizaciones ni partidos, que han ocupado la primera línea de las marchas callejeras, que se han movilizado y han visto a sus amigos caer masacrados.
El juvenicidio, sacrificio consensuado de aquellos que 'no merecen vivir'
Hago parte de un colectivo de investigadores de varios países de América Latina y Europa que se ocupa del juvenicidio. La palabra es un neologismo que tiene seis años de existencia, derivado de la palabra feminicidio, con la cual guarda estrecha relación. Nos convoca una pregunta sencilla: ¿de qué mueren los jóvenes en América Latina? En Colombia, la primera respuesta es que los matan y se matan (se suicidan).
En estos días, se ha hecho evidente que Colombia es un país donde el juvenicidio hace parte de la rutina cotidiana. Hay nombres que entraron en nuestra historia y en nuestra galería de los afectos: Dilan Cruz, asesinado el 25 de noviembre de 2019 en Bogotá; Nicolás Guerrero, el 2 de mayo de 2021 en Cali; Kevin Agudelo, en Cali el 3 de mayo de 2021; Lucas Villa, el 5 de mayo de 2021 en Pereira. Tantos otros de una lista donde también están los 6.402 del panteón llamado 'falsos positivos'.
En todos los países de América Latina existe una larga lista de asesinatos sistemáticos de jóvenes no casual, no accidental ni de página roja: se trata de asesinatos planificados. En algunos países, como México, Brasil y Colombia, las cifras son escandalosas (recordemos la masacre de la semana pasada en una favela de Río de Janeiro y la de Ayotzinapa el 26 de septiembre de 2014).
Más de una vez han coincidido con dictaduras que han hecho de los asesinatos el pan de cada día. Otra cosa es que no se habla de ellos, han permanecido invisibles o han sido aceptados socialmente, producen indiferencia, son parte del paisaje.
Hablar de juvenicidio supone asesinatos, casi siempre atroces y brutales, que son llamados 'ejecuciones extrajudiciales' y se encuentra acompañados de desapariciones forzadas y múltiples formas de tortura.
También es juvenicidio cualquier otra forma de atentado contra la vida de los y las jóvenes: la precariedad laboral, la exclusión de la vida pública, el silenciamiento y la satanización en los medios masivos de comunicación, las limitaciones a sus derechos, la prohibición de su movilidad dentro de territorios acotados, el cercenamiento de las libertades, la abierta represión.
Juvenicidio es amputarles la posibilidad de vivir una vida digna y con sentido, negarles una imagen con contenido de verdad, representarles como predelincuentes o como causantes de peligro para la sociedad entera.
Esto, porque no solo se mata a los jóvenes con balas, también se los mata borrándolos de la vida social, económica y política, eliminando su rostro, su buen nombre, convirtiéndolos en peligro social y creando el estigma en la opinión pública.
Dos conceptos son capaces de dar cuenta de esta dolorosa realidad en el actual contexto. El primero el de necropolítica, según los planteado por Achille Mbembe, que se genera a partir de dos preguntas fundamentales: ¿quiénes merecen vivir? ¿quiénes deben morir? Sin duda, en Colombia los jóvenes se encuentran en la lista de quienes deben morir.
Son prescindibles. Algunos más que otros: los pobres, los negros, los pueblos originarios, los que ya no tienen miedo de enfrentar el poder porque lo han perdido todo. En consecuencia, necropolitica es gobernar a los seres humanos en relación con la muerte. Ya no es el gobierno de la vida solamente, es el gobierno de la muerte de los seres humanos.
El doloroso presente de muchos jóvenes ocurre en el horizonte del necropoder, donde aquellos que han sido llamados 'el futuro de la patria', protagonistas del momento más feliz de la vida, son permanentemente vulnerados y precarizados. El poder absoluto permite dictaminar quién vive y quién muere, utilizar el horror y el miedo como modelo de gobierno.
En segundo lugar, me parece fundamental para entender el juvenicidio la noción de Estado penal construida por Loïc Wacquant. Para entender la necropolítica hay que comprender la teoría del Estado después del 11 de septiembre de 2001, en la sociedad de la lucha contra el terrorismo. Se trata de un Estado que reprime hasta la muerte a todos aquellos que considera como potencialmente terroristas, que reprime desórdenes generados por el desempleo masivo porque este genera desórdenes.
Informe especial sobre la violencia policial Colombia Mayo 2021
Igualmente, reprime a quienes no tienen futuro ni lo van a tener, a los que no tienen oportunidades, a los que viven en la incertidumbre porque generan riesgos para los demás. Castiga con puño de hierro y cárceles de miseria a los pobres, a los parias. Decreta pena de muerte a los negros, a los indígenas, a las mujeres, a los jóvenes.
Recordemos, en el caso colombiano, la atrocidad llamada 'falsos positivos' que alude a bajas en combates que no existieron, un eufemismo canalla. Fueron asesinatos intencionales, planificados y sistemáticos de civiles colombianos, población inerme (algunos con discapacidad), presentados por el Ejército como muertes en combate con el objeto de mostrar resultados exitosos y obtener recompensas económicas.
Los cogieron en las calles de los barrios populares, engañándoles con ofertas de trabajo porque eran desempleados. Terminó siendo una política de exterminio de jóvenes pobres, sin trabajo. Juvenicidio es, en este caso, crueldad extrema cometida por un Estado penal. Son crímenes de Estado contra un supuesto enemigo.
Zaffaroni anota que el enemigo es la población civil, el enemigo son los jóvenes, el enemigo son los pobres, el enemigo son los negros de las favelas porque tienen el perfil de aquellos que son sacrificables y no pasa nada. En Colombia son jóvenes pobres que viven en zonas marginales: Siloé y Aguablanca en Cali, Ciudad Bolívar y las periferias de Bogotá, las comunas pobres en Medellín.
Aunque este acontecimiento tiene una larga historia, no es visible ni perceptible y no hay acción política en contra de esta realidad macabra que se ha enquistado en la vida social y política de América Latina, que se ha naturalizado en medio de la guerra y que ha existido en medio de la impunidad. Queda claro que el juvenicidio es sistemático, aceptado socialmente y que los jóvenes no les duelen a nuestras sociedades porque son vistos como un peligro social.
Las identidades de estos jóvenes están desacreditadas, se construyen a través de prejuicios, estereotipos, estigmas y racismo que producen criminalización, vulnerabilidad, indefensión, subalternidades radicales (como las llama Gramsci) o identidades canallas, vidas vulnerables y vidas que pueden ser suprimidas.
Las vidas precarias de los jóvenes colombianos no merecen ser protegidas. Se disparan indiscriminadamente granadas desde tanquetas contra quienes portan rostro juvenil, mientras helicópteros Blackhawk artillados los vigilan desde el aire.
La frase de Lucas Villa, premonitoria el día antes de ser acribillado en Pereira, es lapidaria: "ahorita en Colombia solo el hecho de ser joven y estar en la calle es arriesgar la vida". 'Los Nadie' son los jóvenes del país más desigual de América Latina, siendo este el continente más desigual del mundo. La guerra es contra ellos, su resistencia es desde la 'nada'.
Si encuentras un error, selecciónalo y presiona Shift + Enter o Haz clic aquí. para informarnos.
Featured Colombia Opinión Juan Diego García
Por Juan Diego García | 17/05/2021 | Colombia
Es probable que Duque quiera enredar la salida al paro en interminables diálogos estériles para debilitar al movimiento opositor.
La oposición a la reforma fiscal en Colombia ha dado frutos. El gobierno decide retirarla con la formulación que provocó el levantamiento popular pero solo para darle una nueva forma y así conseguir debilitar a la oposición y terminar imponiendo alguna figura similar.
Otra cosa es que lo consiga. Igual razonamiento vale para la propuesta de reformar el sistema de salud, el educativo y el de pensiones, todas con la misma filosofía neoliberal y todas ellas provocando el rechazo de amplios sectores sociales.
El Comité Nacional de Paro, que se reunió hoy con el presidente, podrá calcular hasta dónde es posible avanzar, hasta dónde el sistema está dispuesto no solo a prometer y no cumplir, que es su política habitual, sino a concretar los acuerdos en medidas reales.
Hay que considerar, sin embargo, que para un avance considerable sería necesario que el gobierno de Duque cambiara la filosofía neoliberal de su política generando nuevas realidades en el país. Algunos con buenos deseos podrían aventurar que el presidente apueste por adherirse a la probable nueva orientación de Biden, introduciendo alguna forma de keynesianismo, si es que al presidente estadounidense la gran burguesía le permite tales cambios, cuya sola mención ya despierta la franca oposición de importantes grupos empresariales.
Si por ventura Duque apostase por un cambio tal, la presión de los grupos de la burguesía criolla, que tantos beneficios sacan del actual modelo neoliberal, sería enorme, sin descartar las maniobras del capital internacional –los centros financieros, sobre todo– que tiene armas mucho más poderosas que la oligarquía local.
El presidente colombiano tiene otro obstáculo importante: le restan solo algunos meses para las elecciones legislativas del año entrante y sobre todo para las presidenciales, de modo que su margen de acción es bastante corto si es que decidiese introducir cambios para dar alguna satisfacción a las demandas populares.
En realidad, es mucho más probable que Duque enrede el proceso en interminables diálogos estériles para debilitar el movimiento opositor y conseguir dejar al próximo gobierno esa bomba de tiempo del descontento popular, que no será posible desactivar y que seguramente volverá a hacer explosión más temprano que tarde.
El actual gobernante tiene, además, la presión de quienes lo han llevado al Gobierno y no parecen dispuestos a aceptar ni las más mínimas concesiones. El poder detrás del trono, el ultraderechista Uribe Vélez, ha conseguido hasta ahora imponer su estrategia de 'mano dura', dejando en poder de militares y policías la gestión del problema, reprimiendo salvajemente la protesta pero sin conseguir aplacarla.
Por el contrario, este movimiento que tiene unas organizaciones iniciadoras, en especial el Comité Nacional de Paro, y está ahora mismo acompañado y muy ampliado por una reacción espontánea de la población que ha sorprendido a todos por su vigor y por su permanencia, a pesar de haber sufrido una represión brutal que hasta la ONU, la Unión Europea y muchos gobiernos y entidades de derechos humanos lamentan –eso es todo lo que permite el lenguaje diplomático– al tiempo que hacen un llamado a la calma y piden a Duque que busque soluciones a través del diálogo.
En pocas palabras, el actual gobierno y las fuerzas políticas y sociales que le apoyan aparecen sin capacidad de controlar la situación y hasta este lunes 10 de mayo, en lo fundamental, han entregado la gestión del problema a los cuarteles, una vieja costumbre del régimen colombiano que tiene así su propia versión del golpe militar. Queda por ver si tras el diálogo iniciado hoy se puede iniciar un procedimiento nuevo, retirando las tropas de las calles, abandonando el lenguaje de satanizar a la protesta social y controlando a las huestes de la extrema derecha armada, conformadas tanto por gente de los barrios ricos como por elementos criminales, que ya salen a disparar contra las manifestaciones con la complicidad de la Policía, tal como se registra en Cali, Pereira y otros lugares del país.
Asimismo, habría que verificar que una medida de tal naturaleza permita reducir los actos aislados de vandalismo que, en no pocas ocasiones, son provocados por infiltrados de las llamadas 'fuerzas del orden' en una conocida táctica destinada a criminalizar las marchas pacíficas.
El movimiento opositor tiene, igualmente, retos que superar. El primero de todos, sin duda, es el de conseguir mantener la unidad de tantos sectores dispares que confluyen en el paro, gestionar adecuadamente las exigencias al tenor de la real correlación de fuerzas y encontrar la fórmula para que lo que de debata en la mesa de negociones se cumpla y no se quede en papel mojado.
Resulta innegable la experiencia de tantas promesas incumplidas a estudiantes, indígenas, negritudes y asalariados de diversos sectores; así como el incumplimiento de lo pactado con la guerrilla desarmada de las FARC, cuyos miembros son asesinados a diario por fuerzas ocultas pero evidentemente muy bien respaldadas y cuya naturaleza de extrema derecha es innegable.
En el caso del asesinato sistemático de dirigentes de movimientos populares que se oponen a los planes expoliadores de grandes empresas multinacionales y nacionales, de terratenientes y acaparadores de tierras, ¿no resulta válido el tradicional principio de preguntarse antes que nada a quién benefician esos asesinatos?
Seguramente, el mismo Comité Nacional de Paro se ha visto sorprendido por la enorme reacción popular que prácticamente se ha regado por todo el país: movimiento de protesta en grandes ciudades y pequeños poblados, carreteras y caminos, plazas y calles, y hasta en los hogares que, a su modo y posibilidades, protestan a diario haciendo sonar las cacerolas, ondeando banderas y coreando consignas de apoyo.
En todos estos lugares aparecen gentes de todas las clases sociales, etnia y condición, hasta grupos de sacerdotes católicos y de otras creencias salen a engrosar las marchas a sabiendas, todos ellos, del riesgo que asumen. No menos importante es que este movimiento espontáneo se repite por todo el mundo reuniendo a gentes de Colombia junto a ciudadanos locales de todos los matices que apoyan la protesta.
Toda esta movilización, con su fuerza, lozanía y vigor, con su naturaleza espontánea requiere que quienes encabezan la movilización sepan mantener un diálogo enriquecedor con los movilizados de forma que todo lo que se consiga en la mesa de conversaciones sea producto de la armonización de esos dos principios claves en todo proceso de cambio: organización y espontaneidad debidamente coordinadas.
Es muy pronto para saber cuál será la evolución de este apasionante proceso colombiano. Podría ser que se consigan ciertas reformas o al menos que se detengan las que están en curso.
Mantener la unidad de tantas gentes –que incluyen nada desdeñables sectores de las capas medias– será, entonces, decisivo y no sobra enfatizar que esta lucha puede servir para avanzar en la formación de un frente amplio que consiga un victoria significativa en las próximas elecciones parlamentarias y, por supuesto, que saque a la extrema derecha del Gobierno en las presidenciales del año próximo.
Tampoco hay que olvidar que el fascismo criollo está allí y que, para ellos, la opción de un régimen militar pleno tampoco debe descartarse.
Fuente original: https://elturbion.com/16015
---
Source:
Thefreeonline.wordpress.com