Last week we posted about the projected Trans Law in Spain and some feminists opposing self designation rights as "effacing women".. Below is a defence of pro Trans self designation rights in Mexico.
Feb 17 For Alessa. LA COLUMNA ROTA, VERÓNICA VILLALVAZO/ FRIDAGUERRERA by Láurel Miranda, republished by @Fridaguerrera translation thefreeonline
NOTE: Frida publishes an updated list with details of femicides in Mexico now running at 11 every day. see here on her site: https://fridaguerrera.blogspot.com/2021/02/el-discurso-transfobico-el-verdadero.html
*****
Laurel writes for a medium that after publishing this column and receiving complaints from "feminist collectives", it was eliminated without giving any explanation to the author. Seeing the level of violence that was exercised in social networks against Láurel, we requested her permission to publish said text in our spaces that was kindly granted to us by media friends with the Broken Column. This is also our way of giving a voice to those who artfully murder and remain invisible.
Here is the full text of Láurel, with whom we stand in solidarity and embrace each one of those who today say, No to violence and our invisibility.
Transphobic discourse, the true Trojan horse of feminism
by Laurel Miranda
If you are a feminist and do not stand up to those who in the name of this political movement violate trans and non-binary people, I am afraid to tell you that it is called complicity.
In the same way that we speak of the patriarchal pact to denounce the complicity between men, as well as their silence or passivity in the face of the misogynistic acts of their fellow men, we can and must also speak of those cisgender feminist women who decide to ignore the transphobic acts of their alleged wrestling partners.
How far have we allowed transphobia to advance in Mexico that now "feminist marches" are being called, not to fight in favor of women's rights, but to prevent trans populations from accessing them.
This is precisely what is happening in places like Puebla, where a group of radical feminists has taken as their main objective to prevent the approval of the Agnes Law, an initiative with which trans people could have their sex-gender identity recognized through an administrative procedure .
Something similar happens in the State of Mexico, as another group has called for the March 8 march to be "against the erasure of women."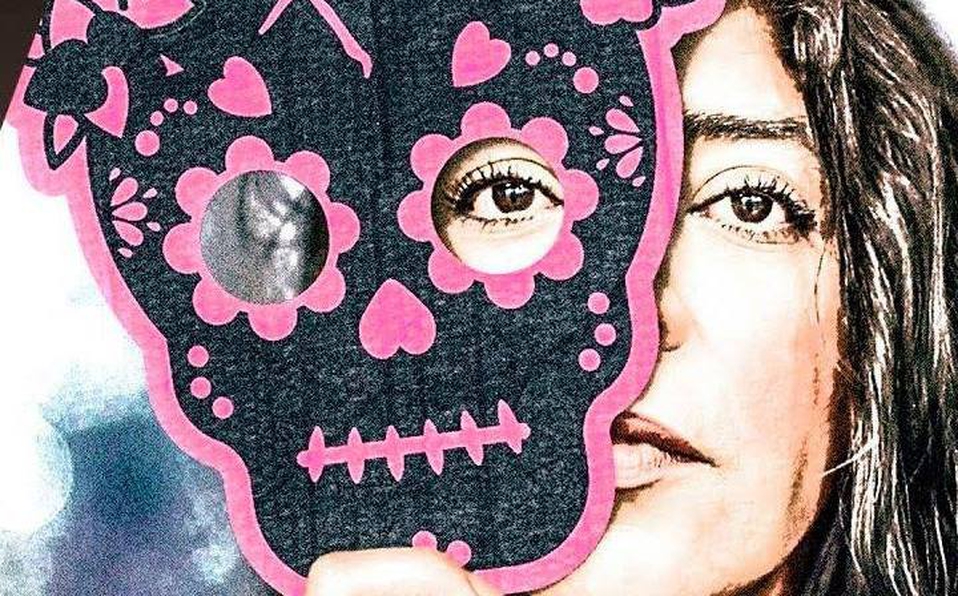 What does this alleged erasure of women refer to? Which women? White, racialized, poor, sex workers, trans…? How could more than half of the world's population be erased?
Well, in the same way that discursive constructions such as "gender ideology" or "gay lobby" came with force from the most conservative sectors of society to repress sex-gender diversity, we now face the alleged "erasure of women", an idea that (apparently) is not promoted either by the church nor by the extreme right, but by feminist voices of journalists, writers and intellectuals, such as the former deputy of the Spanish party PSOE Ángeles Álvarez, the Mexican anthropologist and academic Marcela Lagarde or the creator of Harry Potter, JK Rowling. (Ángeles Álvarez, la antropóloga y académica mexicana Marcela Lagarde o la creadora de Harry Potter, J.K. Rowling.)
The fight against the "erasure of women" has been erected to prevent countries such as Spain, the United Kingdom (and now Mexico) from entering into force laws that allow the recognition of the sex-gender identities of trans and non-binary people through administrative and non-binary procedures, no longer through trials or gender certifications, for which psychological or psychiatric support is needed, as well as hormonal treatments, which have historically contributed to the pathologization of trans people.
In Spain, for example, Ángeles Álvarez and the transexclusive sector of Spanish feminism, consider that if the Trans Law were approved, it would endanger the representation of women – again: what women? – in the different spheres of public life like politics, sports, entertainment, and so on.
Álvarez's argument breaks down when we see in the statistics that trans populations are a minority in the world, and yet with a high rate of hate crimes against us, a high suicide rate and a reduced life expectancy. In contrast, the cases of trans people in the spheres described above, and yet they are still used sensationally, particularly in the world of sports, to claim that their presence endangers the possibility of victory for "biological women" (sic).
victory for trans activists in Puebla, Mexico
It seems incredible to me that in the middle of 2021, after decades and decades of feminism and gender studies, phrases such as "biological women" and "biological men" (sic) continue to be used as arguments to discard the legitimacy of trans identities and to claim openly a fight against our most basic rights: identity, free development of personality, non-discrimination, access to education and decent work.
And it is that more than being against the "erasure of women", the transexclusive voices are against the gender category and in favor of the vindication of the material reality of sex as the only and decisive factor to determine who is and who is not woman;
'It was the provisions in the UK bill to erase the use of terms such as "women" and "mothers" and instead use words like "the person is pregnant" and "the person has given birth to a child" that provoked uproar, mirroring the jargon like "birthing bodies", "uterus holder" and "chestfeeders".'
It is, therefore, an essentialist position against which, in fact, feminism has been fighting for years. They also consider that a "primary oppression" derives from their sexual reality, thereby universalizing the experiences of all women and leaving aside aspects of identity such as race, class or sexual orientation, which in the case of some women are it deals with the main factor of the oppression in which they live.
"There are women who are black, women who are lesbians, women who are trans and poor women. They suffer discrimination not only because they are women, but also because of their race, gender or socioeconomic situation (…) Feminism is against gender oppression and exploitation, if there are women affected by racism or homophobia or by transphobia, fighting against it is part of liberation ", says Reni Eddo-Lodge, British feminist and journalist.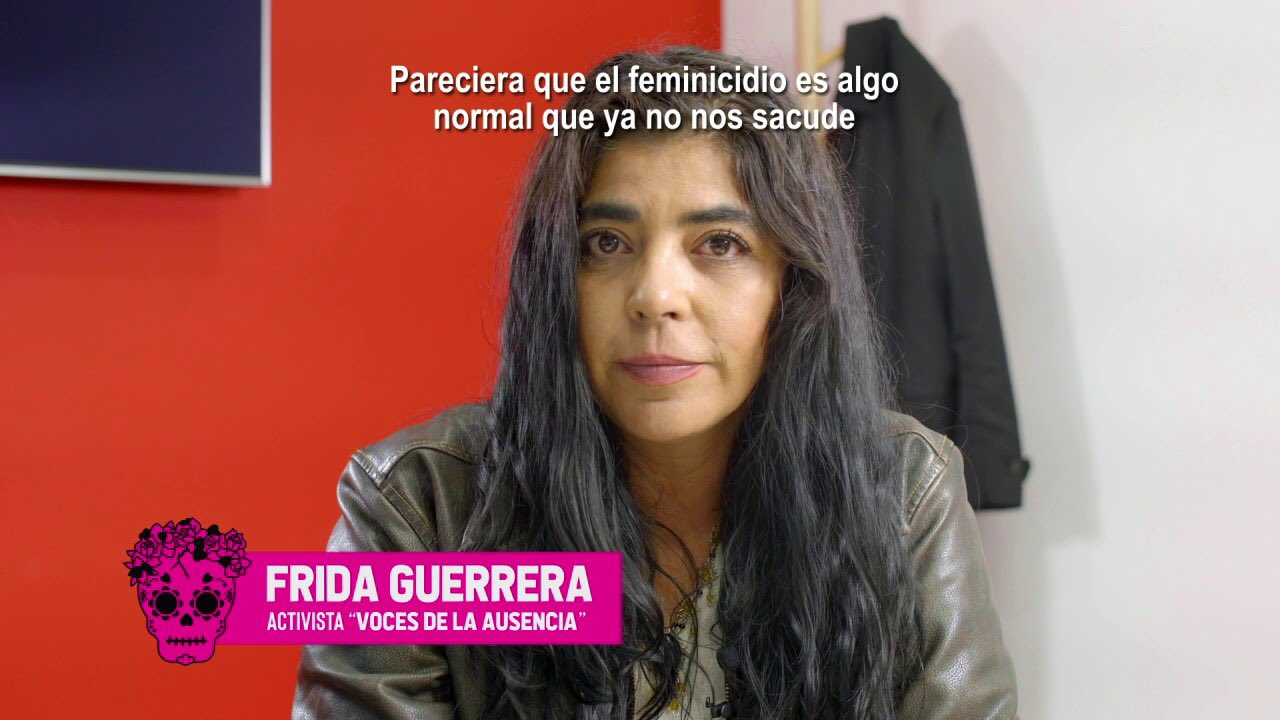 It is due to the particularity of our realities and the different types of violence that we experience, that it seems necessary to be honest and point out that on this occasion I am talking about how dangerous the transexclusive discourse is for trans women; however, I would like to emphasize that it also threatens other life possibilities: trans men, for example, whom they call "sisters" if they decide to detransition, or traitors and "lesbophobic" if they decide to remain firm in their gender transition.
It is enough to see the violence launched against trans men who, as long as they also have the capacity to gestate, have attended marches in favor of the decriminalization of abortion: As Laurel said, trans people support the decriminalization of abortion, but the reaction of many separatists is this.. they see a trans man and they hate him for being a man pic.twitter.com/EiQx2cBSLK
Susana Putería: BarebacKeisha López (@ElSimioArcoiris) January 1, 2021
As Gracia Trujillo and Moira Pérez point out, "TERF feminism often highlights its opposition to incorporating trans women into the women's movement (or the collective itself). However, it is actually an exclusive feminism in broad terms, which is opposed, from privilege, to different forms of decision-making autonomy, bodily autonomy, the right to identity, the right to a life free of violence …
Exclusionary feminism is contrary to many forms of existence: not only of the entire spectrum of trans and non-binary people, but also of sex workers or anyone who resorts to surrogacy, among others.
In the case of the latter two, sex work and surrogacy are understood in all cases as violence against women. This analysis does not adjust to reality, it blocks the advancement of rights for the people directly involved in these practices and places them in the positions of passive victims without, on the other hand, listening to them ".
The danger of this discourse lies not only in its struggle to restrict rights, but also in its function as a breeding ground to reinforce stigmas and prejudices against our community.
There we have, for example, the recent case ..that transphobic protesters made to position themselves against the Gender Identity Law and that, however, were attributed by local media to trans people.
At the end of the day, the discursive and media construction that is made of our identities, which associates us with the abnormal, the out of place, the angry, also feeds the hate crimes against us, particularly transfeminicides.
Protests ​​of transphobic feminists, attributed by local media to trans activists.
In the current context, not subscribing to the transphobic discourse or distancing oneself from it is not enough: we must also take a position against it. That is why I applaud the Dignas Hijas collective, which since August last year and after visualizing the way in which feminism is being exploited with Transphobic ines launched the #NoEnNuestroNombree (not in Our Name) initiative to underline that "the rights of transgender people are human rights, not a threat".
Cis feminist women speak out in support of trans identities, in particular our trans companions, and say#NoEnNuestroNombre in the face of trans-antagonist discourses that call themselves feminist.
The rights of trans people are human rights, not a threat. pic.twitter.com/rwOddwFgJz– Dignas Hijas Collective (@DignasHijas August 6) 2020 Dear allies, dear cisgender feminists, if you wish to identify the Trojan horse in your movement, I invite you to analyze which discourse is closest to that of the extreme right. Is it the one who fights for the rights and dignified existence of trans people or that of his abolitionist "sisters", who see a danger in otherness?
Make no mistake, stopping the laws that allow the recognition of sex-generic identities is not going to mean that there are fewer trans people, it only has an impact on our lives being more difficult and we have limited access to our rights.
At this moment the advance is against trans people and sex workers, but if this continues, the bill will also reach you. No to the (cis) patriarchal pact
*********
. ** A hug and my solidarity with Siobhan Guerrero and Ophelia Pastrana, whose name and image have been used to denounce the transgender community when figures like them raise our identities while dedicating their lives for the defense and conquest of our Rights. Twitter, Facebook, Instagram and TikTok: @laurelyeyeYouTube: Láurel Miranda ·
I am currently working in the digital area of ​​Grupo MILENIO as editorial coordinator of soft news and SEO manager; I am also a professor of multimedia journalism at the Faculty of Political and Social Sciences. I love my mother, my cats and, these days, hot chocolate. View all posts by Láurel Miranda https://yosoylaurel.wordpress.com/2021/02/13/terf-discurso-feminismo-caballo-de-troya/ February 2021
*******
Are you a mother, father, sister, brother, daughter, son of a woman victim of femicide or disappearance? Are you a survivor of a violent relationship or attempted femicide? Find us, help us make them visible and tell their stories: Voices of Absence.
@Fridaguerrera .. Facebook: FridaGuerrera Villalvazo .. fridaguerrera@gmail.com
NOTE: Frida publishes an updated list with details of femicides in Mexico now running at 11 every day. see here on her site: https://fridaguerrera.blogspot.com/2021/02/el-discurso-transfobico-el-verdadero.html
MEDIA CREATED BY THE FIRST NATIONAL PRIZE 2010 "CARLOS MONTEMAYOR". VERÓNICA VILLALVAZO, THIS ALTERNATIVE MEDIA OF INFORMATION WAS BORN ON JULY 1, 2007, WITH THE PURPOSE OF COMPLAINING ABOUT SERIOUS VIOLATIONS OF HUMAN RIGHTS IN OAXACA. Posted 1 week ago by Frida Tags: #LaColumnaRota
Para Alessa.
LA COLUMNA ROTA, VERÓNICA VILLALVAZO/FRIDAGUERRERA
Hace unos días Láurel, una mujer exitosa, transgénero, escribió sobre el tema que debería estar preocupando a todos, la terrible guerra que se ha desatado en contra de las mujeres trans, y la comunidad Lésbico, gay, bisexual, transexual, transgénero, travesti e intersexual; las primeras 3 (LGB) son orientaciones/preferencias sexuales, las siguientes (TT) corresponden a identidades de género; la siguiente T corresponde a una expresión de género y la intersexualidad corresponde a una condición biológica, (LGBBTTI) en general. COPRED
Laurel escribe para un medio que luego de publicar está columna y recibir quejas de "colectivas feministas", fue eliminado sin dar ninguna explicación a la autora. Al ver el nivel de violencia que se ejerció en redes sociales en contra de Láurel, solicitamos su permiso para publicar dicho texto de nuestros espacios que amablemente nos otorgan medios amigos con la Columna Rota. Esta es también nuestra forma de dar voz a quienes asesinan arteramente y quedan invisibilizadas.
Es preciso señalar que debemos protestar contra está guerra a ellas, pues forma parte de una expresión de la violencia de género en la sociedad, la discriminación que sufren las personas LGBTTTI, que desafían los roles de género masculinos y femeninos, convirtiéndose con ello en víctimas de todo tipo de violencias, psicológica, física y sexual.
Aquí el texto íntegro de Láurel, con quién nos solidarizamos y abrazamos a cada una de las que hoy, de frente dicen, No a la violencia y la invisibilidad de nosotras.
El discurso transfóbico, el verdadero caballo de Troya del feminismo
Si eres feminista y no plantas cara a quienes en nombre de este movimiento político violentan a personas trans y no binarias, temo decirte que se llama complicidad. Del mismo modo en que hablamos del pacto patriarcal para denunciar la complicidad entre hombres, así como su silencio o pasividad ante los actos misóginos de sus congéneres, podemos y debemos hablar también de aquellas mujeres cisgénero feministas que deciden pasar de largo los actos transfóbicos de sus presuntas compañeras de lucha.
Qué tan lejos hemos dejado avanzar la transfobia en México que ahora se convoca a "marchas feministas" ya no para luchar a favor de los derechos de las mujeres, sino para impedir que las poblaciones trans accedan a ellos. Esto es precisamente lo que está ocurriendo en lugares como Puebla, donde un colectivo de feministas radicales ha tomado como su principal objetivo impedir que se apruebe la Ley Agnes, una iniciativa con la que las personas trans podrían ver reconocida su identidad sexogenérica mediante un trámite administrativo. En el Estado de México ocurre algo similar, pues otro colectivo ha hecho un llamado para que la marcha del 8 de marzo sea "contra el borrado de las mujeres".
Marcha organizada en nombre del feminismo contra los derechos de las personas trans.
¿A qué se refiere este presunto borrado de mujeres?, ¿cuáles mujeres?, ¿blancas, racializadas, pobres, trabajadoras sexuales, trans…?, ¿cómo podría borrarse a más de la mitad de la población mundial? Bien, pues del mismo modo en que construcciones discursivas como "ideología de género" o "lobby gay" llegaron con fuerza desde los sectores más conservadores de la sociedad para reprimir a la diversidad sexogenérica, ahora nos enfrentamos al presunto "borrado de mujeres", una idea que (aparentemente) no es impulsada ni por la iglesia ni por la ultraderecha, sino por voces feministas de periodistas, escritoras e intelectuales, tales como la ex diputada del partido español PSOE Ángeles Álvarez, la antropóloga y académica mexicana Marcela Lagarde o la creadora de Harry Potter, J.K. Rowling.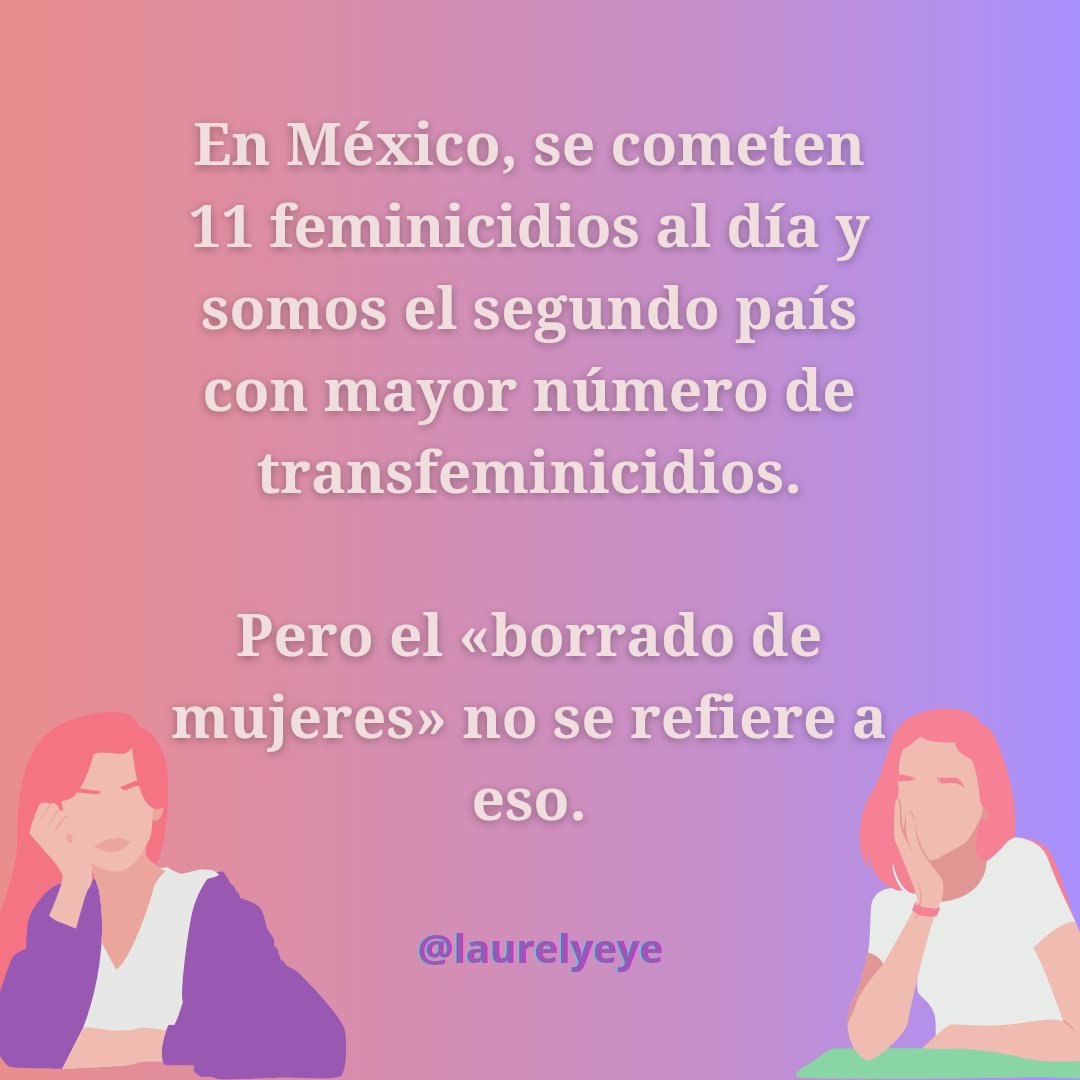 La lucha contra el "borrado de mujeres" se ha erigido para impedir que en países como España, Reino Unido (y ahora México) entren en vigor leyes que permitan el reconocimiento de las identidades sexogenéricas de las personas trans y no binarias mediante trámites administrativos y ya no a través de juicios o certificaciones de género, para las que se necesitan acompañamientos psicológicos o psiquiátricos, así como tratamientos hormonales, los cuales han contribuido históricamente con la patologización de las personas trans.
En España, por ejemplo, Ángeles Álvarez y el sector transexcluyente del feminismo español, consideran que de aprobarse la Ley Trans, ésta pondría en peligro la representación de las mujeres –de nuevo: ¿qué mujeres?– en los distintos ámbitos de la vida pública como la política, deportes, espectáculos, etcétera. El argumento de Álvarez se desbarata cuando constatamos en las estadísticas que las poblaciones trans somos minoría en el mundo, y sin embargo con un alto índice de crímenes de odio en nuestra contra, una alta tasa de suicidios y una esperanza de vida reducida. En contraste, son contados los casos de personas trans en las esferas antes descritas, y aún así se emplean de forma sensacionalista, particularmente en el mundo de los deportes, para acusar que su presencia pone en peligro la posibilidad de victoria de las "mujeres biológicas" (sic).
Me parece increíble que en pleno 2021, luego de décadas y décadas de feminismos y estudios de género, frases como "mujeres biológicas" y "hombres biológicos" (sic) sigan siendo empleadas como argumentos para descartar la legitimidad de las identidades trans y para enarbolar abiertamente una lucha en contra de nuestros derechos más básicos: identidad, libre desarrollo de la personalidad, a la no discriminación, acceso a la educación y a un trabajo digno.
Y es que más que estar en contra del "borrado de las mujeres", las voces transexcluyentes están en contra de la categoría género y a favor de la reivindicación de la realidad material del sexo como factor único y decisivo para determinar quién sí y quién no es mujer; se trata, pues, de una postura esencialista contra la que, de hecho, el feminismo lleva años luchando. Consideran, además, que de su realidad sexuada deriva una "opresión primaria", con lo que universalizan las experiencias de todas las mujeres y dejan de lado aspectos de la identidad como raza, clase u orientación sexual, que en el caso de algunas mujeres se trata del factor principal de la opresión en que viven.
"Hay mujeres que son negras, mujeres que son lesbianas, mujeres que son trans y mujeres pobres. No sólo sufren discriminación por ser mujeres, sino por su raza, su género o su situación socioeconómica (…) El feminismo está en contra de la opresión de género y la explotación, si hay mujeres afectadas por el racismo o por la homofobia o por la transfobia, luchar contra eso es parte de la liberación", señala Reni Eddo-Lodge, feminista y periodista británica.
Es debido a la particularidad de nuestras realidades y las distintas violencias que nos atraviesan, que me parece necesario ser sincera y señalar que en esta ocasión hablo de lo peligroso que es el discurso transexcluyente para las mujeres trans; sin embargo, me gustaría subrayar que éste atenta también contra otras posibilidades de vida: hombres trans, por ejemplo, a quienes llaman "hermanas" si deciden detransicionar, o traidorAs y "lesbofóbicas" si deciden mantenerse firmes en su transición de género. Basta con ver la violencia con que se lanzan contra hombres trans que, en tanto tienen también la capacidad de gestar, han acudido a marchas a favor de la despenalización del aborto:
tal como decia laurel, las personas trans apoyan la despenalizacion del aborto, pero la reaccion de muchas separatistas es esta
ven a un hombre trans y lo odian por ser hombre pic.twitter.com/EiQx2cBSLK
— Susana Putería: BarebacKeisha López (@ElSimioArcoiris) January 1, 2021
Como señalan Gracia Trujillo y Moira Pérez, "con frecuencia se resalta del feminismo TERF su oposición a incorporar a las mujeres trans dentro del movimiento de mujeres (o del colectivo mismo). Sin embargo, se trata en realidad de un feminismo excluyente en términos amplios, que se opone, desde el privilegio, a distintas formas de autonomía decisional, autonomía corporal, al derecho a la identidad, al derecho a una vida libre de violencia… El movimiento feminista excluyente es contrario a muchas formas de existencia: no solo de todo el espectro de personas trans y no binarias, sino también de las trabajadoras y trabajadores sexuales o de cualquier persona que recurra a la gestación por sustitución, entre otros. En el caso de estos dos últimos, el trabajo sexual y la gestación por sustitución se entienden en todos los casos como violencias contra las mujeres. Este análisis no se ajusta a la realidad, obtura el avance de derechos para las personas directamente involucradas en estas prácticas y las sitúa en posiciones de víctimas pasivas sin, por otra parte, escucharlas".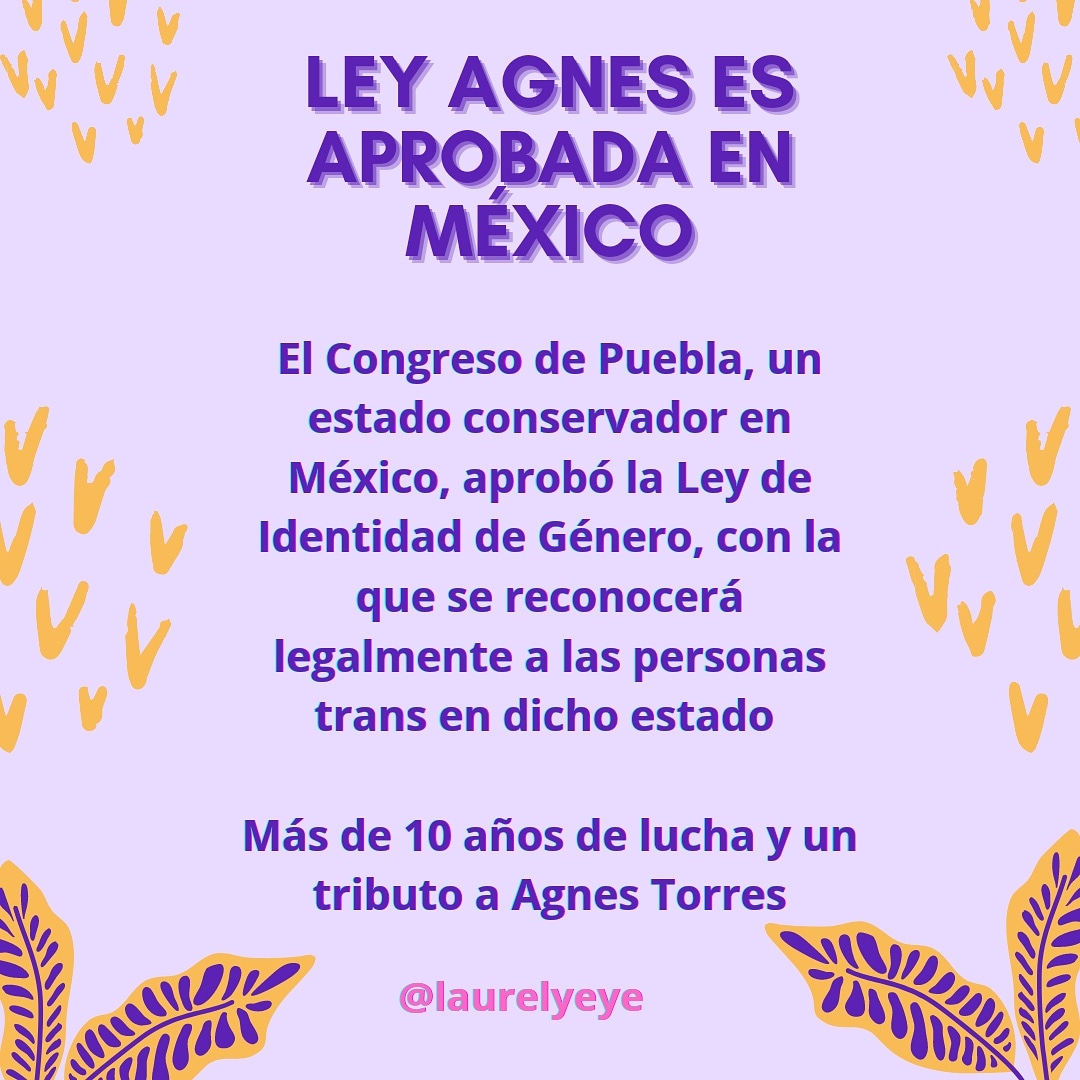 El peligro de este discurso no radica únicamente en su lucha por restringir derechos, sino también en su función como caldo de cultivo para reforzar estigmas y prejuicios en contra de nuestra comunidad. Ahí tenemos, por ejemplo, el caso reciente de las pintas que manifestantes transfóbicas realizaron para posicionarse en contra de la Ley de Identidad de Género y que, sin embargo, fueron atribuidas por medios locales a personas trans. Al final del día la construcción discursiva y mediática que se hace de nuestras identidades, que nos asocia con lo anormal, lo fuera de lugar, lo iracundo, alimenta también los crímenes de odio en nuestra contra, particularmente los transfeminicidios.
Pintas de feministas transfóbicas, atribuidas por medios locales a activistas trans.
En el contexto actual, no suscribir el discurso transfóbico o desmarcarse de él no es suficiente: también hay que posicionarse en su contra. Por ello aplaudo a la colectiva Dignas Hijas, que desde agosto del año pasado y luego de visualizar la forma en que el feminismo está siendo instrumentalizado con fines transfóbicos lanzaron la iniciativa #NoEnNuestroNombre para subrayar que "los derechos de las personas trans son derechos humanos, no una amenaza".
Mujeres feministas cis nos pronunciamos en apoyo a las identidades trans, en particular a nuestras compañeras trans, y decimos #NoEnNuestroNombre ante discursos transantagonistas que se dicen feministas.
Los derechos de las personas trans son derechos humanos, no una amenaza. pic.twitter.com/rwOddwFgJz
— Colectiva Dignas Hijas (@DignasHijas) August 6, 2020
Queridas aliadas, queridas feministas cisgénero, si desean identificar cuál es el caballo de Troya en su movimiento, les invito a analizar qué discurso se aproxima más al de la ultraderecha. ¿Es acaso el que lucha por los derechos y digna existencia de las personas trans o el de sus "hermanas" abolicionistas, que ven un peligro en la otredad? No nos equivoquemos, que se frenen las leyes que permiten el reconocimiento de las identidades sexogenéricas no va a lograr que haya menos personas trans, sólo repercute en que nuestras vidas sean más difíciles y tengamos un acceso limitado a nuestros derechos.
En este momento la avanzada va contra personas trans y trabajadoras sexuales, pero de continuar con la tibieza, la factura también les alcanzará a ustedes. No al pacto (cis)patriarcal.
**Un abrazo y mi solidaridad con Siobhan Guerrero y Ophelia Pastrana, cuyo nombre e imagen se ha empleado para denostar a la comunidad transgénero cuando figuras como ellas ponen en alto nuestras identidades a la vez que dedican su vida por la defensa y conquistar de nuestros derechos.
---
Twitter, Facebook, Instagram y TikTok: @laurelyeye
YouTube: Láurel Miranda
Este texto, que forma parte de mi blog #SerEsResistir, se publicó originalmente en otro medio.
---
Láurel Miranda es una mujer trans, periodista, licenciada en Ciencias de la comunicación y egresada en Historia del arte por la UNAM. Se desempeña en el área digital de Grupo MILENIO como SEO manager; es profesora de periodismo multimedia en la Facultad de Ciencias Políticas y Sociales de la UNAM y de Marketing Digital en la Universidad de la Comunicación. Ama a su familia, su gato y el chocolate caliente.
Mujer trans, periodista, licenciada en Ciencias de la comunicación y maestrante en Historia del arte por la UNAM. Me desempeño actualmente en el área digital de Grupo MILENIO como coordinadora editorial de soft news y SEO manager; también soy profesora de periodismo multimedia en la Facultad de Ciencias Políticas y Sociales. Amo a mi madre, mis gatos y, estos días, el chocolate caliente. Ver todas las entradas de Láurel Miranda
https://yosoylaurel.wordpress.com/2021/02/13/terf-discurso-feminismo-caballo-de-troya/
febrero 2021
¿Eres madre, padre, hermana, hermano, hija, hijo de una mujer víctima de feminicidio o desaparición? ¿Eres sobreviviente de una relación violenta o intento de feminicidio? Búscanos, ayúdanos a visibilizarlas y a contar sus historias: Voces de la Ausencia.
@FridaGuerrera
Facebook: FridaGuerrera Villalvazo fridaguerrera@gmail.com
---
Source:
Thefreeonline.wordpress.com